June 23, 2011 -
Dave Miller
'Full cost of attendance' isn't the answer
One of the emerging issues rising to prominence in the world of college football — when the discussion doesn't center on investigations at Ohio State, North Carolina, Oregon or anywhere else — is the issue of giving student-athletes scholarships based on the value of "full cost of attendance."
If you aren't already familiar with this hotly debated topic, it's probably not going to go away for awhile — not with major-college football being such a profitable business for university presidents, conference commissioners, television networks and anyone else associated with the great sport who isn't a student-athlete.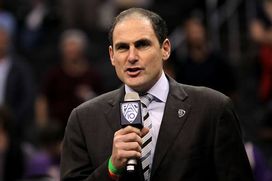 Fresh off the Pac-12 inking TV deals with ESPN and Fox, commissioner Larry Scott wants some of that cash to go to the athletes.
Many would argue that making sure that players get extra cash — legally and within NCAA boundaries — is becoming most essential in today's climate. Conferences are netting huge television deals with ESPN and Fox. Bowl Championship Series games are providing huge profits for league members. Meanwhile, star players are selling autographed merchandise and getting cash from agents and boosters in order to get a piece of the pie.
Would paying student-athletes or raising scholarship amounts prevent these players from making money off of their signatures as former Ohio State quarterback Terrelle Pryor did during his tenure in Columbus? Probably not. After all, there's always money to be made.
The more immediate question is whether full-cost scholarships would negatively affect the college football world as well as the entire landscape of the NCAA.
The answer is that it most certainly would, which would further divide the B.M.O.C.'s and Ohio State president Gordon Gee's favorites, the Little Sisters of the Poor.
While the issue has been around for awhile, Big Ten commissioner Jim Delany brought it more attention back in May at his league's meetings by suggesting that players should receive additional money besides tuition, room and board, books and other fees.
Under this proposed system, if a player wants to go out with his girlfriend or a bunch of his teammates, he'd have the cash to do so. If he wants to purchase the entire series of Entourage on Blu-Ray, he'd be able to run to the nearest Best Buy and pick up the discs. Basically, these players would receive spending money in such a system. The idea is that it could eliminate the means in which some players receive money now — dealings that happen to violate NCAA rules.
It sounds like a great idea. After all, the duties required to be a major-college football player are numerous. It is essentially a full-time job or perhaps a 24/7 internship.
However, while Delany and some of his fellow wealthy commissioners may support the idea — especially when they are sitting on huge television deals — it's not a solution that will eliminate many of the problems associated with college athletics.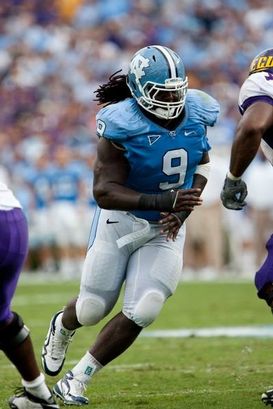 ICONNFL prospects such as former North Carolina DE Marvin Austin will always be surrounded by runners and agents.
For one thing, can we really expect projected NFL-caliber players — even with additional cash in their pockets — to turn their backs on agents and their runners who will continue to infiltrate college campuses? And can we really expect that flashy cars, discounted tattoos, paid parking tickets and the like will be fully eliminated?
Secondly, will the NCAA really sign off on an idea that would benefit 85 scholarship football players without helping out every other scholarship athlete at that school — including female athletes?
Even if there are athletic departments that can foot the bill for every student-athlete at the school, the biggest deterrent is the fact that too many institutions don't have the money to do so themselves.
If you're not a school with a BCS football program, you're going to be out in the cold.
Keep in mind that there are 335 Division I basketball programs in the country. And there are currently 66 schools in BCS conferences. Can the other 269 schools without a BCS-level football team be able to afford a "full cost of attendance" initiative? If they can, don't expect many upgrades to the athletic facilities or any other aid necessary when a sport such as men's tennis needs it. There won't be any funds left at institutions such as Troy, Utah State or Central Michigan. Even leagues like the Mountain West Conference and Conference USA — mid-majors who are making money — would feel the burn in this scenario.
You thought the debate over a playoff system in the Football Bowl Subdivision was intense, especially from those at non-BCS schools who say they can't fairly compete for a national championship? Imagine how those schools would feel if they continue to be unable to recruit the best players because of this proposed system.
Quite simply, the gap will further widen. The only fix?
A playoff system — and we all know that isn't happening anytime soon.
Email dave.miller@nationalfootballpost.com or follow me on Twitter at Miller_Dave