September 19, 2010 -
Dave Miller
Fulmer: Kiffin 'turned people off' at Tennessee
If things don't work out for Rick Neuheisel at UCLA, perhaps Phillip Fulmer wouldn't mind going head-to-head with Lane Kiffin and USC for the top recruits in the Los Angeles area.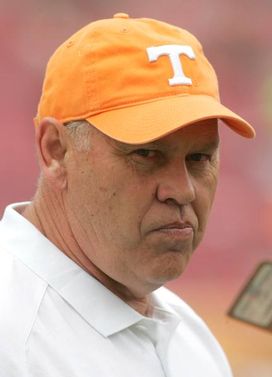 ICONFormer Tennessee head coach Phillip Fulmer isn't the biggest fan of Lane Kiffin.
Based on the former Tennessee head coach's comments toward the Trojans new leader, the Bruins rivalry with the crosstown school in that scenario would likely get very heated.
On the CBS halftime show Saturday during the network's coverage of Florida-Tennessee, Fulmer said Kiffin's "arrogant attitude turned people off" at Tennessee and wondered how Kiffin was able to land head gigs at Tennessee and USC.
The CBS analyst and former Vols coach was replaced by Kiffin after he was forced to resign following the 2008 season. After one season in Knoxville, Kiffin left the Vols to take over for Pete Carroll at USC.
Fulmer said the people of Tennessee felt betrayed by Kiffin when he left Knoxville "with basically his hat in his hand and a bunch of NCAA compliance questions.
"And often his arrogant attitude turned people off. The bigger question in my opinion is how does a guy like this end up with two jobs with historic football teams like Tennessee and USC?"
Follow me on Twitter at Miller_Dave
Click here to win cash today playing fantasy football with the NFP and FanDuel.