June 07, 2011 -
Dave Miller
Future for Stewart at West Virginia looks bleak
Is he in or is he out?
That's the question West Virginia fans are asking about head coach Bill Stewart — after once pondering the fate of new offensive coordinator and head-coach-in-waiting Dana Holgorsen — after an eventful offseason on the Morgantown campus.
The latest news regarding the turmoil on the coaching staff began to unfold on Monday when school officials reportedly told the Charleston Daily Mail that Stewart's separation agreement was being put on hold while it investigated "blatant inaccuracies" in newspaper stories about Holgorsen and the entire program. At the center of the storm appears to be Stewart, whose wife Karen had been rumored to have leaked false information to Huntington Herald-Dispatch writer Chuck Landon for a piece he wrote in late May that claimed Holgorsen may have been involved in as many as six alcohol-related incidents over a six-month span.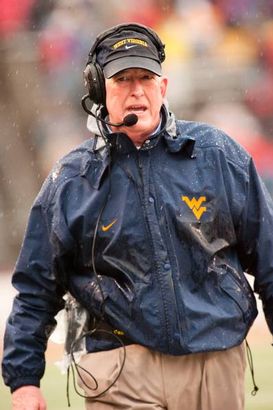 ICONIt's becoming more evident that Bill Stewart is not long for the head-coaching job at West Virginia.
Because of these incredible circumstances, university officials have said that they would not sign off on Stewart's separation agreement with the school — designed to give him one more season as head coach before Holgorsen takes over — until the investigation concludes.
Obviously, if the school finds that Stewart had any role in leaking false information about his successor, he won't be leading the football team in 2011.
The two major issues at play here for athletic director Oliver Luck and other university officials are a) if Stewart had any sort of role in bad-mouthing Holgorsen and b) the need for Holgorsen's off-the-field transgressions to be eliminated — if they have been problematic in any way.
On Tuesday morning, Luck was interviewed on 93.7 The Fan in Pittsburgh and discussed the turmoil within the WVU football program. He admitted that it has been difficult sorting out the facts from fiction but that he is confident that Holgorsen is the right man to lead the program in the future.
"I've got a high level of confidence in Dana and his persona," Luck said. "I have 100 percent confidence that he'll do the right thing. Some of the reports were blatantly inaccurate and beyond that I can't say that much."
When asked if he would construct the head-coach-in-waiting situation if he could get a do-over?
"Would I do it again? I don't know," he said.
Overall during the interview, Luck maintained that he is confident that the drama in Morgantown will be resolved without affecting the 2011 season and the play on the field. He then released a statement through the school later in the morning:
There have been various reports, much speculation, and rumor around our football program and coaches. But I want to make it clear that I consider these to be personnel matters and while I take them very seriously, I am dealing with them internally and privately -- and I will not discuss them publicly.
What I will say is that our athletic department coaches and staff are clear that their focus is on the program, the team and a successful season.
My expectations of all our coaches and staff have not wavered; that is to run a clean and honest program with the upmost integrity and professionalism. Anything less is unacceptable and will not be tolerated.
But who will be the head coach when Geno Smith and Co. take the field this fall?
The controversy over Stewart's alleged role in inaccurate media reports on Holgorsen's off-the-field behavior became even more dramatic on Chris Mueller's overnight radio show on KDKA-FM in Pittsburgh on Tuesday morning.
Colin Dunlap, who served as the Mountaineers beat reporter for the Pittsburgh Post-Gazette last season, told Mueller that Stewart called him three days after Holgorsen was hired to request that Dunlap "dig up dirt" on the former Oklahoma State offensive coordinator.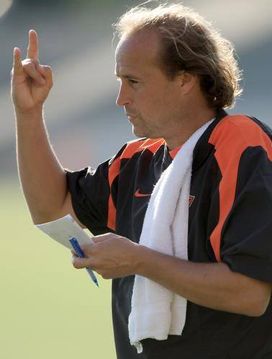 Could Dana Holgorsen be leading the Mountaineers earlier than expected?
We sensed that there could be tension when Holgorsen was named coach-in-waiting, but no one could have expected this. This, quite frankly, is a bombshell.
Did Stewart think that he had a chance to remain at West Virginia past 2011 if Holgorsen's name was trashed in the media?
While there have been reports by both the Intelligencer/Wheeling News-Register and the Herald-Dispatch of various alcohol-related incidents involving Holgorsen, WVU apparently did not find evidence to back up the claims. A cloud of suspicion arose, leading many school officials to believe that information was being leaked.
In the Daily Mail story, it states that Stewart's separation agreement hasn't been signed by school officials, so Stewart could be let go if he's found to have played a role in this mess. That, of course, remains to be seen. The investigation has to play out first, but the comments by Dunlap on KDKA-FM certainly don't paint a pretty picture.
The most disastrous end result would be if Stewart was ousted and Holgorsen was deemed not fit to be the face of a program. That, however, seems unlikely with Luck expressing his confidence in the hire.
The most pressing issue now is whether Holgorsen is prepared to be a head coach in the fall — because there doesn't seem any way for Stewart to survive the current state of affairs.
Email dave.miller@nationalfootballpost.com or follow me on Twitter at Miller_Dave