July 20, 2012 -
Dave Miller
Golden could be in hot water at Miami
With the NCAA not yet done with its investigation into the Miami football program, the Hurricanes could be in even more hot water.
According to Yahoo! Sports investigative reporter Charles Robinson, members of head coach Al Golden's coaching staff used then-equipment manager Sean Allen less than one week after Golden was hired to get around NCAA rules while recruiting multiple Miami-area players. Allen, who has become a focal point in the governing body's probe into Miami athletics, was once the right-hand man of convicted Ponzi schemer and rogue Hurricanes booster Nevin Shapiro. He reportedly had improper contact with Miami recruits through the summer of 2011 before no longer working for the 'Canes.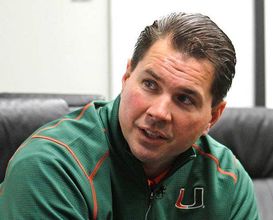 Could Al Golden be in hot water at Miami if the latest report regarding NCAA violations is true?
Golden reportedly knew of Allen's improper involvement with Miami recruits, according to federal testimony given by Allen in Shapiro's bankruptcy case. A former Hurricanes staffer told Yahoo! Sports that Allen was used by Golden's staff members as an "off-the-books" recruiter to gain a commitment from some prospects.
Allen's actions could be in violation of NCAA bylaws 13.02.14 and 11.7.
This would be yet another blow to Miami if Golden knew that Allen was impermissibly recruiting for the program during his tenure. According to the report, Allen's infractions occurred immediately after Golden's tenure began and with the participation of former assistant Aubrey Hill and current assistant Micheal Barrow. Even though the alleged violations are more secondary in nature, it would be a tough blow to a head coach who maintained that his staff was not part of the culture that was prevalent within previous regimes.
Certainly, Golden will need to be prepared to field a lot of questions at ACC Media Days beginning on Sunday. At this point, another bowl ban may be in Miami's best interests, especially considering it would be a minor miracle to make a lower-tier bowl in 2012 with such a young roster. Overall, while we may not yet know what punishment the NCAA will hand out to the 'Canes, it's looking more and more as if they could be in the territory of what USC is currently experiencing.
Email dave.miller@nationalfootballpost.com or follow me on Twitter at Miller_Dave