December 06, 2011 -
Dave Miller
Hand Baylor's RG III the Heisman Trophy
One of the closest Heisman Trophy races in recent memory became more intriguing Monday night when five finalists were announced for the most prestigious individual award in college football.
Baylor quarterback Robert Griffin III will be joined by fellow quarterback Andrew Luck of Stanford, Wisconsin running back Montee Ball, Alabama running back Trent Richardson and LSU cornerback Tyrann Mathieu at the 77th annual Heisman Trophy presentation Saturday night in New York
Boise State quarterback Kellen Moore and Houston signal-caller Case Keenum did not get invited despite their phenomenal seasons.
But there's another quarterback who was snubbed as well: USC's Matt Barkley. And after 14 weeks of the regular season, it's hard to believe the Trojans signal-caller won't be in New York City this weekend.
For the final time this season, here are the five names that I believe should be in attendance Saturday night. And the list is headlined by RG III, who has simply been too phenomenal to not claim the prestigious honor. As colleague Joe Fortenbaugh discusses, he is the odds-on favorite to hoist the trophy this weekend.
Robert Griffin III, QB, Baylor: From his scintillating performance on the opening Friday of the season to his final performance of the regular season, no player has wowed college football fans more than Griffin III. Even when he was knocked out of a win over Texas Tech with an apparent concussion two weeks ago, the junior dual-threat had already accounted for three touchdowns — two on the ground and one through the air. RG III has played outstanding all season long, and his play has never been the reason the Bears lost a game — with the exception of the late interception against Kansas State that set up the Wildcats' winning score early in the year. It's nit-picking, but that's how close this race has been this fall. Still, if coordinator Phil Bennett had better material on defense, it would be interesting to see if Baylor could have squeezed out more than 9 wins. His unit gave up 30 or more points eight times this fall, but Griffin III did his best to overcome that disadvantage. Without RG III, could we imagine the Bears having more than three or four wins? Simply put, he was the best college football player I saw in 2011.
2011: 3,998 yards, 72.4 %, 36 TDs and 6 INTs; 161 rushes for 644 yards and 9 TDs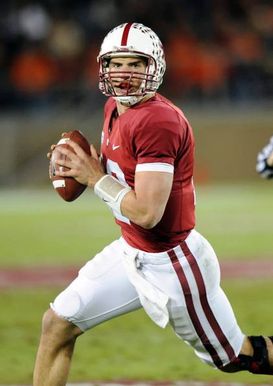 ICONAndrew Luck had a strong season, especially considering that his best pass-catching options were tight ends.
Andrew Luck, QB, Stanford: Luck entered this season as the prohibitive Heisman favorite after finishing as a runner-up to Auburn's Cam Newton last year. Passing up a chance to be the likely top pick in this past April's draft, Luck hopes to become the second Heisman winner in program history, joining 1970 winner Jim Plunkett. The junior signal-caller finished the year by setting the school record for the most career touchdown passes in a 28-14 win over Notre Dame, topping John Elway's record of 77 career touchdown throws. On the season, he threw 35 touchdowns against 9 interceptions, working mostly with a trio of talented tight ends and former walk-on receiver Griff Whalen as his best pass-catching options while Chris Owusu missed the final three games of the year. Imagine how Luck would fare with receivers such as USC's Robert Woods and Marqise Lee. He certainly was hurt by his performance against Oregon — Ducks coordinator Nick Aliotti put together a beautiful defensive game plan. Still, the Cardinal receivers struggled to get open consistently in that contest. However, in a race so tight, Luck's performance against Chip Kelly's squad factored into giving RG III the nod. Luck, in my opinion, didn't lose this race. RG III simply won it.
2011: 3,170 yards, 70.0 %, 35 TDs and 9 INTs
Trent Richardson, RB, Alabama: If there was a player projected to be Luck's toughest competition in this race entering the year, it was Richardson. The junior workhorse finished the regular season by rushing for a career-high 203 yards in a 42-14 victory over Auburn in the Iron Bowl. He's proved his value to this Crimson Tide offense all season, showing time and again that he is the center of coordinator Jim McElwain's offense. And his production was vital as quarterback A.J. McCarron needed time to get more comfortable in this offense. His rare combination of power and speed helped 'Bama whenever it had problems moving the football, and the tough-nosed runner closed the gap on Luck each week. However, RG III seemed to pass him by as well.
2011: 263 rushes for 1,583 yards and 20 TDs; 27 receptions for 327 yards and 3 TDs
Montee Ball, RB, Wisconsin: Ball has done nothing but score touchdowns for Wisconsin this fall during the team's journey toward a Big Ten championship. He ranks fourth in the nation in rushing at 135.3 yards per game, and he is coming off of a four-touchdown effort against Michigan State in the conference title game. If he is able to find the end zone twice against Oregon in the Rose Bowl, he will break former Oklahoma State star Barry Sanders' FBS record for single-season total touchdowns of 39. He may be in a numbers-friendly offense, but there's no denying Ball's impact on this Badgers squad.
2011: 275 rushes for 1,759 yards and 32 TDs; 20 receptions for 255 yards and 6 TDs
Matt Barkley, QB, USC: If Barkley has played his last college game, he certainly went out in style in USC's 50-0 laugher over UCLA. The junior threw six touchdown passes and passed for 423 yards in the win over the Bruins, and it's really hard to believe that he won't be in New York City this weekend. Whether it's because he didn't have a chance to win over voters the final weekend of the season, the fact that USC is on probation or because there were just too many other worthy candidates, Barkley didn't get an invite to the ceremony Saturday night. But he certainly was deserving of one. He wasn't the reason that 'SC lost to Stanford, and his only "off" game was the road loss at Arizona State. While the Trojans aren't in the postseason because of NCAA sanctions, Barkley led a BCS-level squad this fall.
2011: 3,528 yards, 69.1 %, 39 TDs and 7 INTs
Obviously, I decided to include Barkley over stud LSU defender/returner Tyrann Mathieu. The Honey Badger certainly has been one of the best players in the nation this season, forcing five fumbles, intercepting two passes and scoring four touchdowns — including two long, game-changing punt returns in the past two games against Arkansas and Georgia. But, for me, his one-game suspension this season for violating the team's drug policy gave the edge to Barkley.
Email dave.miller@nationalfootballpost.com or follow me on Twitter at Miller_Dave