January 13, 2012 -
Dave Miller
Has Green-Beckham narrowed his choice to four schools?
Dorial Green-Beckham, the nation's best wide receiver in the Class of 2012, has reportedly narrowed his list of possible destinations as National Signing Day nears.
According to multiple reports, the 6-6, 225-pounder from Hillcrest High School (Springfield, Mo.) has cut his finalists to four schools: Arkansas, Oklahoma, Missouri and Texas.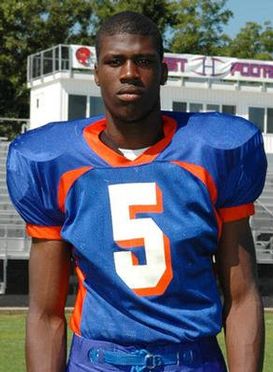 Dorial Green-Beckham is projected to make an instant impact wherever he lands on National Signing Day.
However, after his basketball game on Thursday night, Green-Beckham denied that he ruled out any of his previous finalists in the recruiting process, specifically Alabama.
"Whatever happens these next couple weeks is going to happen," Green-Beckham said after his team lost in the first round of the Bass Pro Tournament of Champions. "I've still got a little bit more time to give to those schools and see whatever I need for me to be able to take [schools] out."
Green-Beckham, who has an unmatched blend of size, speed, hands and explosiveness, is scheduled to sign his letter of intent on National Signing Day, which is February 1, at his high school. Because he is close to his family, many believe DGB won't choose a school too far away from his hometown of Springfield.
This past season, Green-Beckham caught 119 passes for 2,233 yards and 24 touchdowns as a senior. His 6,353 career receiving yards broke the national record of 5,867 yards. He was named USA Today National Player of the Year, Sporting News National Player of the Year, ESPN All-American, Gatorade All-American and U.S. Army All-American Player of the Year.
Entering this season, if I were to guess where Green-Beckham was headed I would have said Oklahoma. Now? It's just a guess, but I ultimately think he'll land with Arkansas, where he could make an immediate impact with quarterback Tyler Wilson losing some of his best receivers to the NFL Draft or graduation.
Email dave.miller@nationalfootballpost.com or follow me on Twitter at Miller_Dave