March 19, 2012 -
Dave Miller
Has LSU emerged as Nkemdiche's top choice?
The recruitment of top Class of 2013 prospect Robert Nkemdiche continues to heat up.
After being impressed by his visits to Ole Miss and Clemson, the nation's best overall player ranked his weekend visit to LSU "a 10" on a scale of 1-10, and he's ready to announce his decision on May 18, according to Michael Carvell of the Atlanta Journal-Constitution.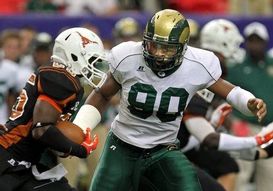 Robert Nkemdiche was impressed by his visit to LSU.
"I'm ready to commit because I know where I want to go," Nkemdiche said. "I feel like I've seen all the places I needed to see, and talked to all the coaches everywhere.
"I don't feel any need to wait any later than the spring. I'm ready to get it over with, and then I can focus on other things…my senior year of high school, my schoolwork, and helping Grayson try to win the state championship again."
LSU has emerged as one of the favorites if not the favorite on a list that includes Alabama, Mississippi, Clemson and Georgia. The Grayson High School (Loganville, Georgia) star could give the Tigers yet another high-quality lineman.
"LSU felt like it was home," he said. "They've got a great tradition of defensive linemen. I feel like I could do some good things there. I could see myself playing there."
It will be interesting to see if Nkemdiche chooses to attend college with best friend and teammate David Kamara, a defensive back at Grayson. The two defenders have stated that they want to go to school together.
Alabama was long considered the frontrunner for Nkemdiche, whose brother, Denzel, is enrolled at Ole Miss. Sunny Nkemdiche, the two players' father, has already said he would love to see his boys play together but understands that the scenario may not play out that way.
The visit to LSU this past weekend could have put Les Miles and the Tigers in the lead as we head into Nkemdiche's May 18 decision.
Email dave.miller@nationalfootballpost.com or follow me on Twitter at Miller_Dave