October 09, 2011 -
Barry Dorey
Has OU impressed more than LSU and Alabama?
There's no question that LSU and Alabama have established themselves as the two best teams in the SEC, and the Tigers and Crimson Tide are marching toward a Nov. 5 showdown in Tuscaloosa with the West division title on the line.
But out in Norman, Bob Stoops' Oklahoma squad just keeps on winning as well — and in quite impressive fashion.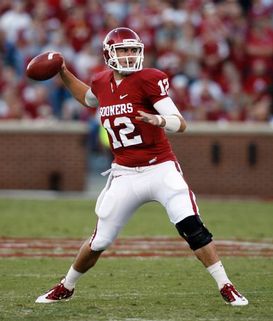 ICONQB Landry Jones led an efficient OU offense while the defense overwhelmed Texas on Saturday in Dallas.
In the Red River Shootout on Saturday at the Cotton Bowl, the Sooners dismantled rival Texas 55-17 while setting six defensive records along the way: outright records for most touchdowns (three), most tackles-for-loss yards (113) and most sack yards (84); tied records of fumble-return TDs (two), sacks (eight) and total tackles for loss (17).
Granted, the Longhorns had young and inexperienced quarterbacks Case McCoy and David Ash taking snaps. But, come on. This is OU-Texas. 55-17? That's a statement effort.
Offensively, Landry Jones completed 23 passes for 305 yards and three touchdowns — in the first half alone. The talent and depth of the Sooners' receiving corps is filthy, and running back Dominique Whaley provided just enough on the ground when his number was called.
However, the one concern I have with OU is the ground game. There's no question the passing attack is nearly unstoppable, but is Whaley the BCS-type running back a team can ride to the national championship? For the Sooners, it's too bad freshman Brandon Williams isn't giving the offense that instant production like Malcolm Brown is at Texas, but we'll see if Whaley can be enough in the run game if and when the Sooners find themselves in a close contest again.
I still believe LSU and Alabama are the two best teams in the nation because of their defense and the fact that they can run the football. Plus, no matter how efficient a team is offensively, both LSU and 'Bama play defense like an NFL team.
But Saturday in Dallas, OU screamed to the nation that it will be a factor in the race to the BCS title game. "Big Game Bob" made sure of that.
Email dave.miller@nationalfootballpost.com or follow me on Twitter at Miller_Dave