December 11, 2010 -
Dave Miller
Hawaii, the WAC and the Mountain West
The Mountain West Conference continued its makeover Friday as Hawaii joined the league for football only beginning in 2012, becoming the fourth school to leave the Western Athletic Conference in six months.
With the Warriors switching leagues, the MWC has now grabbed every single bowl-eligible WAC team from this season. Boise State joins the league starting in 2011, while Fresno State and Nevada also join Hawaii in 2012.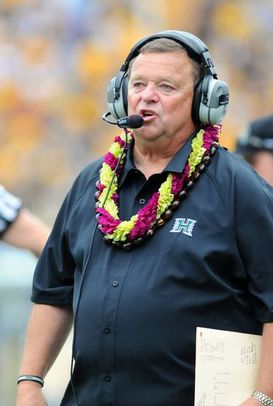 ICONGreg McMackin and the Warriors are on the move to the Mountain West.
"Hawaii's outstanding football program and television value fit perfectly with the MWC's strategic initiatives for the future direction of the conference," league commissioner Craig Thompson said in a statement. "We look forward to adding the Warriors to the MWC family."
Unquestionably, the WAC is severely weakened. The loss of Hawaii, Boise State, Fresno State and Nevada leaves the league with just seven football-playing members for the 2012 season: FCS members UT-San Antonio and Texas State, which will be joining the WAC, Idaho, Utah State, Louisiana Tech, New Mexico State and San Jose State. Where can the league look in an effort to expand? More FCS schools?
Meanwhile, the Mountain West will remain at 10 football-playing schools for 2012. Of course, the MWC is losing Utah, TCU and BYU. The Utes will be playing in the Pac-12, the Horned Frogs will be on their way to the Big East while the Cougars will become an independent.
In terms of the MWC's profile in its quest to become an AQ conference, league membership as of December 2011 is what will factor into whether the league meets the necessary criteria. Therefore, TCU's credentials while in the MWC will be factored into the decision. That's obviously huge considering the success of the Horned Frogs the last few seasons.
Boise State is a big addition for the MWC, but the other schools coming over from the WAC haven't had as much of an impact nationally as Utah or BYU. Nevada and Hawaii had solid seasons in 2010, but can they continue to compete for spots in the Top 25 annually? Can Air Force and San Diego State, under Troy Calhoun and Brady Hoke, emerge as the new Utah and BYU — continually in the upper echelon of the MWC? Of course, those schools have to hope that Calhoun and Hoke stay in town.
Email dave.miller@nationalfootballpost.com or follow me on Twitter at Miller_Dave