February 11, 2011 -
Dave Miller
Hoke has sights on championship
This week, Michigan's Brady Hoke was interviewed by Bob Wojnowski of The Detroit News, and the new Wolverines head coach was asked about his expectations for the 2011 season.
"If we don't win the [Big Ten] championship, we failed, period," Hoke declared.
Asked a slightly different version of the same question, Hoke reiterated his goal.
"If we don't win the championship, we failed," he said.
The 52-year-old former Ball State and San Diego State head coach, who took over at Michigan on Jan. 11, certainly has high expectations for the program as he prepares for spring ball. And while there will be plenty of time throughout the offseason and leading into fall to speculate on how good this Michigan team could be following a 15-22 stretch under Rich Rodriguez, let's break down the Wolverines a little bit and see if there is reason for Hoke's unabashed optimism.
"Shoelace"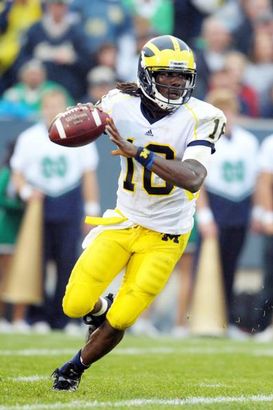 ICONQB Denard Robinson leads a loaded batch of returning starters.
Hoke's biggest victory when he was hired was getting quarterback Denard Robinson to stay in Ann Arbor and not transfer. Hoke has run a pro-style offense since he's been a head coach, so it would have been easy for "Shoelace" to look elsewhere. But Hoke is no dummy, and he knew that he would be tailoring his system around the athletic and dynamic skill set of Robinson, who led all quarterbacks in rushing and was second in the country in total offense last season. However, Hoke will look to have more balance on offense, so the rising junior likely will see a decrease in his absurd numbers. But more balance could also keep Robinson on the field more often, as he was forced to leave a number of contests due to injury in 2010. New offensive coordinator Al Borges has stated that Robinson's numbers on the ground will drop — but he expects that yardage to be made up through the air. And perhaps even more impressive last season was the growth that Robinson made as a pure passer.
Plenty of returning experience
The Wolverines bring back nine returning starters to an offense that averaged 488.7 yards and 32.8 points per game. As mentioned above, the unit will look a bit different. Borges will employ more tight ends and multiple-back sets, so we may not see quite the track meets in 2011 as we did last season. But at the end of the day, you're going to put your playmakers in a position to move the football and score points — which is exactly what this coaching staff will do.
Robinson will be joined in the backfield by last year's starters Vincent Smith and Michael Shaw, along with some promising backups, but running backs coach Fred Jackson has raved about new recruit Thomas Rawls, a 5-10, 220-pounder who can keep moving after the initial hit. Fellow recruit Justice Hayes gives the Wolverines backfield depth they haven't seen in years. And a veteran offensive line returns to lead the way.
Roy Roundtree, Junior Hemingway and Darryl Stonum — the team's three primary receivers — also return, as well as contributors Martavious Odoms and Kelvin Grady, among others. Roundtree, who led the team with 72 catches for 935 yards and seven touchdowns, could have an even finer season as he works in Borges' more traditional sets. And while the four-receiver sets may be few and far between, the staff will maximize the team's offensive assets while fully instituting their playbook.
The defense will be better, right?
Former coordinator Greg Robinson had to go — there's no question about that. But the poor play on the defensive side of the ball was more about inferior talent than scheme. The cupboard was a little more bare than usual upon Rich Rod's arrival because the recruiting of Lloyd Carr and his staff had slipped. But Greg Mattison's arrival is huge for this program. Not just from a recruiting standpoint, but Mattison can coach up subpar talent. The Wolverines will be better just from working with the former Baltimore Ravens assistant on a consistent basis. But we won't see the real jump in production until 2012 and beyond.
All of the team's new defensive assistants will have their work cut out for them, especially secondary coach Curt Mallory. The Wolverines were woeful against the pass in 2010, although the unit was decimated by injuries. Veteran cornerback Troy Woolfolk returns, and the youngsters who were forced into action have valuable experience under their belts.
At the very least, a return to a base 4-3 and away from mainly three-man fronts during the Rich Rod era gives many fans hope — something that is sorely needed in Ann Arbor.
The schedule
Let's take a look at which teams the Wolverines will face in 2011: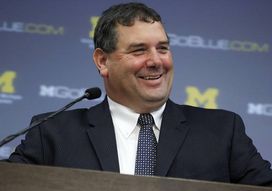 Brady Hoke has high expectations for his first year in Ann Arbor.
September 3 Western Michigan
September 10 Notre Dame
September 17 Eastern Michigan
September 24 San Diego State
October 1 Minnesota
October 8 @ Northwestern
October 15 @ Michigan State
October 29 Purdue
November 5 @ Iowa
November 12 @ Illinois
November 19 Nebraska
November 26 Ohio State
Certainly, there are some difficult contests on the slate.
It wouldn't be a stretch to expect the Wolverines to be 5-0 as they begin the meat of their Big Ten schedule. Certainly the game against Notre Dame will be the most difficult of the first five. The defense, even if improved, could struggle against Brian Kelly's attack. But how will the offensive attack fare against an improved Irish defense under Bob Diaco?
Even if they enter the Oct. 8 Northwestern game at 4-1, the remaining schedule will be challenging. The next week, the team will play rival Michigan State in East Lansing, and back-to-back road games against Iowa and Illinois will be tricky, although both teams will be replacing top players who will be selected in April's NFL draft. Back-to-back games against Nebraska and Ohio State will be the real tests, although they will come at the Big House.
The bottom line
So how many wins should we expect from Michigan in 2011? Eight would be a fantastic start to the Hoke era, despite him stating that anything short of a championship would be a failure. But the former Wolverines defensive line coach is on his way to replenishing the roster — especially along the trenches. And I get the feeling that if the Wolverines are in a bowl game on Jan. 1, 2012 — even if it's not the Rose Bowl — that Hoke will realize that the season was not such a failure after all.
Email dave.miller@nationalfootballpost.com or follow me on Twitter at Miller_Dave
Want to work in the NFL? Click here to sign up for the NFP's "Chalk Talk at the Combine" Seminar February 25 in Indianapolis.