October 04, 2011 -
Dave Miller
Holgorsen calls out West Virginia's fans
Perhaps Dana Holgorsen had an extra Red Bull before his weekly news conference Tuesday.
After his team drew 62,056 fans for its primetime showdown against LSU -- the largest home crowd since a 2003 win over Pittsburgh -- the Mountaineers head coach was disappointed that the team's home attendance this past Saturday against Bowling Green was only 46,603 for the 55-10 win. The former Oklahoma State offensive coordinator did not want to hear weather being used as an excuse either.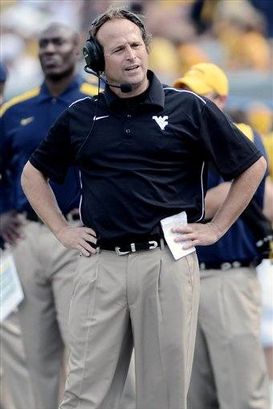 Dana Holgorsen hopes his squad gets better support from the West Virginia fans on Saturday afternoons.
"The environment was terrible. It was relatively early. Maybe you didn't respect your opponent. No matter what the excuses were, our players didn't buy into it. But obviously our fan base did," Holgorsen said. "So whatever our expectations are with our players as far as preparing every week and going to the game and playing their best, I highly encourage our students and our support to take the same approach. You only get seven opportunities a year. What's so hard about it? Is it too cold? It wasn't too cold for our players. It wasn't too cold for our coaches or managers or trainers. They were out there. So why did we have 20,000 people less at this one than we did last week?
"The funny part about it, we're all talking two weeks ago about how much difference the crowd's going to make to the LSU people. Well, LSU played well in front of 62,000 of our people and then turned around and went home and played a 1-4 Kentucky team at noon and had 95,000 people there. You want to talk about an elite program, that's one. I don't know about this place."
While there's no question that Mountaineer fans were disappointed their team was unable to pull the upset over the Tigers, it is a bit alarming for such an attendance decrease. Especially when many WVU fans believe their team would be a good fit in the SEC, which is clearly the best conference in America with strong support for its major programs.
"All I heard in the offseason -- I did go out there and beat the drum down. I talked about how important it is to our athletic department and our players and our coaches to have support. All I heard about was how much this meant to everybody across the state of West Virginia. This was the NFL team in town and we're going to be here to support you. Well, having 40,000 people at a game isn't doing that...We do our best every week to fix what the problems are offensively, defensively and special teams wise. Well, what's everybody across the state of West Virginia, including the student body, doing to fix the fact that our players had to play in front of 40,000 people?"
No one can question Holgorsen's commitment to the program, but will Mountaineer fans take notice of their head coach's plea for stronger support on game days?
Email dave.miller@nationalfootballpost.com or follow me on Twitter at Miller_Dave