June 28, 2011 -
Dave Miller
How does Wilson fit into Wisconsin's offense?
With Russell Wilson officially resuming his college football career by transferring to Wisconsin, let's turn our attention to how the former N.C. State quarterback fits into the Badgers offense.
First and foremost, the dual-threat signal-caller has to learn the new playbook if he has designs on lining up under center against UNLV in the season opener for Bret Bielema's squad.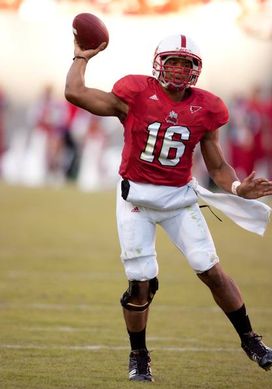 ICONRussell Wilson will compete with Jon Budmayr for the starting job in fall camp.
Certainly, Wilson's talent is unquestioned. The three-year starter in Raleigh completed his Wolfpack career by throwing for 3,663 yards and 28 touchdowns while leading the team to a victory over West Virginia in the Champs Sports Bowl. The 5-11, 201-pounder, who is eligible to play right away after graduating from N.C. State, will have to protect the football better in fall camp, however, if he is to claim the starting gig that was projected to go to Jon Budmayr. Last season, Wilson tossed 14 interceptions after throwing 11 picks in 2009 and an amazing single interception in his first season as a starter. It should be noted, though, that Wilson often was a one-man show behind a suspect offensive line and a running game that wasn't consistent in 2010.
While it's possible Budmayr maintains the grip on the starting job, the Wisconsin staff would not have brought Wilson in if it didn't expect him to win the job.
"Russell will come in and compete for the starting quarterback position," Bielema said in a statement. "This is an unusual situation, especially for a program that prides itself on developing players throughout their careers, as we do here at Wisconsin. However, this is a special situation and Russell is the type of player and person that fits very well with our team."
While the program prides itself on developing lightly recruited players, gaining Wilson's services is huge as the Badgers aim to compete for another Big Ten title and BCS bid. Of course, the big joke nationally (and even in Madison) is that any Badgers quarterback plugged into this offense merely needs to hand the ball off to one of the team's running backs and let him work his magic behind an always-beefy offensive line.
But Paul Chryst's offense is more dynamic than it's often perceived, and the coordinator/quarterbacks coach has an excellent coaching pedigree that will serve Wilson well as he hurriedly learns the Badgers offense.
After serving as the San Diego Chargers tight ends coach for three seasons as well as a one-year stint as the Badgers' tight ends coach, Chryst served as Oregon State's offensive coordinator and quarterbacks coach in 2003-04, and in his first season the Beavers ranked No. 10 in total offense and No. 6 in passing yards per game nationally — and the Beavers became the first team in FBS history with a 4,000-yard passer, 1,500-yard rusher and two 1,000-yard receivers.
When he returned to Madison in 2005, Chryst immediately improved the Badgers offense. In his first season back at the school, the team set school records for points per games and points scored in a season, notching at least 40 points six times. In 2006, the offense helped lead the team to a 12-1 mark — and Chryst had arrived on the national coaching radar.
This past offseason, Texas head coach Mack Brown looked closely at Chryst to replace Greg Davis as the team's coordinator following the Longhorns' disastrous 5-7 campaign. Ultimately, after reportedly being offered the job, the longtime Badger decided to remain in Madison for a seventh straight season — and remain one of the nation's top assistant coaches after his team finished 2010 with the No. 4 scoring offense in the country. Among the offensive highlights for the Badgers: school records for points scored (539), points per game (41.5) and rushing touchdowns (48), as well as three instances of scoring over 70 points and nine times when the unit registered at least 30.
As quarterbacks coach, Chryst helped John Stocco, Tyler Donovan and Scott Tolzien develop into solid Big Ten quarterbacks — and all three were not as gifted as Wilson, an all-ACC performer with 8,545 career passing yards and 76 touchdowns. The big question is whether Wilson could learn the playbook fast enough to be a fit for Chryst's pro-style offense.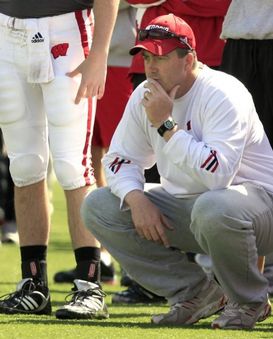 No matter who is under center, Paul Chryst always fields a prolific Badgers offense.
While it will be a challenge to learn a new scheme, Wilson essentially just needs to learn the terminology of the offense. As a veteran starter, he's a natural leader whose main concern will be getting familiar and comfortable with his personnel. And with a little over two months until the opener, that process has already begun. Even hanging out with his teammates off the field will help expedite the process, and Wilson should have no problem competing on the first day of camp in August.
In terms of skill-position players, the Badgers have perhaps the country's best running back duo in James White and Montee Ball running behind a premiere offensive line. The team historically has received very good production from the tight end position, and Nick Toon is one of the better Big Ten receivers when healthy.
Perhaps the biggest aspect of Wilson's arrival, though, is his ability to make plays out of the pocket — an added aspect to an already dangerous offense that Chryst certainly will take advantage of this fall. Last season, Wilson ran for 435 yards and nine scores, and his ability to make plays on the run will only cause Big Ten defenses fits.
Certainly, Beliema, Chryst and the entire staff believe that Wilson will be prepared in time for the opener or else they wouldn't have bothered to woo the three-year ACC starter.
Budmayr and Joe Brennan may represent the future under center in Madison, but Wilson represents the present — along with even higher expectations for the Badgers in the 2011 Big Ten race.
Email dave.miller@nationalfootballpost.com or follow me on Twitter at Miller_Dave