July 28, 2012 -
Dave Miller
How Redd would fit into USC's offense
After meeting with USC head coach Lane Kiffin for three hours Thursday in Connecticut, Penn State running back Silas Redd and his family are reportedly scheduled to travel to California for a campus visit Saturday with a decision on his future possibly being made by Monday.
The Nittany Lions' leading rusher in 2011 and arguably the best running back in the Big Ten not named Montee Ball has a very difficult decision to make: an opportunity to play for a Pac-12 and perhaps national championship or remain with close veteran teammates with whom he has forged a tight bond during his college career.
Of course, because of the massive sanctions levied against Penn State last Monday, Nittany Lion players are eligible to transfer and play right away at their new schools. USC is currently at its 75-player limit, but the school believes at least one player will be academically ineligible. Another scenario could involve a walk-on giving up a scholarship to make room for Redd.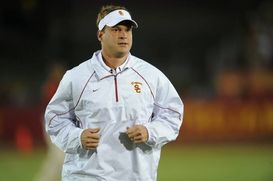 ICONLane Kiffin continues to pursue Penn State RB Silas Redd.
Redd, who has two years of eligibility remaining but could turn pro after this season if he is projected to be a high NFL draft pick, was treated to a well-prepared presentation by Kiffin on how he would fit in with the 2012 Trojans. And although we don't know all of the specifics, a Power Point presentation and video clips were involved. Trojans backup quarterback Max Wittek, who played Pop Warner football with Redd, also has done his best to recruit the Nittany Lions running back.
So if Redd did indeed decide to transfer to 'SC, how exactly would he fit into the team's plans?
We already know that quarterback Matt Barkley will head into the season as a Heisman Trophy contender and arguably the best signal-caller in the nation. And he has the country's best receiver duo in Robert Woods and Marqise Lee at his disposal. So the passing attack will once again give opposing defenses fits.
But an effective ground game makes the aerial attack even more dangerous, and that's exactly why the emergence of Curtis McNeal was so huge in 2011. The diminutive McNeal rushed for 1,005 yards and six scores last season, and the offensive line has four starters returning this fall. Of course, losing left tackle Matt Kalil to the NFL Draft was a huge blow. But protecting Barkley's blind side isn't expected to be an issue in 2012.
What is an issue that Kiffin and Co. are dealing with is a lack of backfield depth. And that's where Redd fits in.
While USC has the productive McNeal entrenched as the starter, durability remains a concern with him because he is a smaller back. The 5-10, 209-pound Redd would be an ideal complement to McNeal, especially for a team whose offense could be decimated with one injury in the backfield. It would also make a dangerous offense even more scary, as Redd rushed for 1,241 yards and 7 scores while averaging over 5.0 yards per carry last fall. Thunder and Lightning at the Coliseum? There's no question that the combination of McNeal and Redd would be tough to contain.
We'll see how Redd's visit to the USC campus goes this weekend. But if you were him, would you ever be inclined to leave L.A., especially when you have the opportunity to play in that Trojans offense?
Email dave.miller@nationalfootballpost.com or follow me on Twitter at Miller_Dave