November 07, 2013 -
Dave Miller
Huge BCS implications at stake on Thursday night
Subscribe to the "Against the Grain with Dave Miller" podcast in iTunes
Ten weeks of the 2013 college football season are in the books, and the path to the BCS national title game will continue to become more clear after Thursday night's games, as Baylor and Oregon look to remain unbeaten when they battle Oklahoma and Stanford, respectively.
Let's take a more in-depth look at what could be in store for Thursday night's Week 11 contests.
Oklahoma at Baylor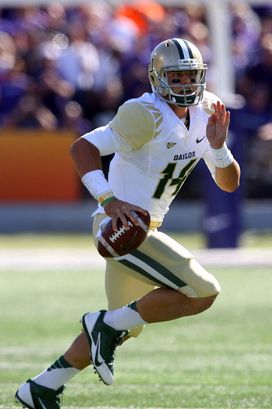 US PRESSWIRECan Bryce Petty continue his Heisman run with a big effort against the Sooners?
It's going to take a big effort from the Sooners to win this game in Waco. They can't win a shootout with the Bears, so it's imperative that they keep quarterback Bryce Petty off of the field as much as possible by effectively running the football. We haven't seen the Heisman Trophy-contending Petty be limited yet this season. However, the Bears' best opponent has arguably been Buffalo (no offense to the red-hot Bulls). Limiting Petty's time on the field and forcing a key turnover or two will greatly help the Sooners' chances.
Perhaps most important for OU coordinator Mike Stoops' defense is getting his secondary to limit the yards after catch of the Bears' receivers. Baylor thrives on racking up YAC. The OU defense has been solid this season, with the exception of its rush defense. The dilemma for the Sooners is this: do you stack the box and give Petty the opportunity to beat you, or perhaps allow tailback Lache Seastrunk to run wild? Loading up the box and trying to stop the run on early downs may be the best bet because the Sooners' pass rush led by Eric Striker is very good. And that works in OU's favor in obvious passing downs. To counter that, though, Baylor could sling it around on first and second downs.
Offensively, quarterback Blake Bell and the Sooners hope to control the football and keep Petty and that Bears offense off of the field. However, this is a Baylor defense that is much improved, especially up front. Baylor's pass rush is strong, and the unit loves to use its corners to blitz off the edge and its linebackers to come up the middle. The Sooners will have no chance if Bell is put in third-and-long situations. He throws a nice deep ball, but he is inaccurate on intermediate routes. The Sooners will need to run, run, run...and run some more to have a chance to give Baylor its first loss of the year.
Oregon at Stanford
Can Cardinal defensive coordinator Derek Mason devise another game plan to thwart the Ducks' high-octane, up-tempo attack as he did last year? Shayne Skov will be fully healthy against the Ducks, which he wasn't last season, and Henry Anderson also returns. Keep in mind that Anderson was consistently in the Oregon backfield in last year's win in Eugene. However, Ben Gardner is out for the year, and that's a big loss for this Cardinal unit. Against the Oregon offense, Stanford needs to do what Ohio State, Auburn and LSU did (as well as the Cardinal in 2012) in the past: get penetration up front and drive the Ducks' offensive linemen into the backfield. Dual-threat signal-caller and Heisman leader Marcus Mariota has yet to throw an interception this year, but the last time he struggled was against this very Stanford team.
Offensively, power football will win this game for Stanford. That's how the Cardinal won at home four years ago behind Toby Gerhart's workhorse effort. Quarterback Kevin Hogan has not had the standout year I expected him to have. In fact, the Cardinal offense looked its best this year against UCLA when Tyler Gaffney carried the load. His rushing set up play-action, which is crucial for Hogan to move the ball against a speedy Oregon defense. And while the Ducks' rushing 'D' has been very good, Washington and UCLA were able to move the ball a bit on the ground. Sustaining drives, even if they can't put points on the board, will be crucial for the Cardinal as it was for them last year.
Baylor is looking to start its stretch run in winning fashion, while Oregon is looking to pass its biggest test of the year. The BCS certainly will take notice of both of these high-profile games. But while the Oklahoma-Baylor and Oregon-Stanford contests will take centerstage, there's one more game that will be taking place that has big implications.
Troy at Louisiana-Lafayette: The Trojans already have two Sun Belt losses, while the Ragin' Cajuns are the lone unbeaten in conference play. Louisiana-Lafayette has won six straight games, which is tied for the eighth-longest streak in the FBS. Rising head coach Mark Hudspeth's squad has won 13 of 14 at home but fell behind by three scores last week to a bad New Mexico State team on Homecoming before rallying back. Troy, meanwhile, leads the Sun Belt in total offense. Check out where I have these two squads in my latest 2013-14 bowl projections. This is a good Sun Belt contest that has bowl implications for both teams.
Is this the biggest Thursday in college football history? Excluding Thanksgiving Thursdays, yes it is.
I'll post Part II of the Week 11 preview on Saturday morning at the NFP. But don't forget about Friday night's contest between Louisville and Connecticut. Cardinals quarterback Teddy Bridgewater looks to keep the Huskies winless.
Dave Miller, the college football editor and writer for the National Football Post, is on Twitter @Miller_Dave.