August 16, 2011 -
Barry Dorey
Hurricane Shapiro
The most uncomfortable college football feature story I've ever read.
That is how I would describe the bombshell released by -- who else? -- Yahoo! Sports on Tuesday regarding the NCAA investigation at Miami.
You thought the Fab 5 scandal at Michigan was bad? This case, as thoroughly and precisely documented by Charles Robinson, is Michigan on steroids.
Miami booster Nevin Shapiro, locked up for his role in a $930 million Ponzi scheme, told Yahoo! Sports over an 11-month investigation that he provided thousands of impermissible benefits to at least 72 athletes from 2002 through 2010. And according to Shapiro, these transgressions sometimes occurred with the knowledge or direct participation of at least seven coaches from the Miami football and basketball programs.
Shapiro estimates, in all, the total costs being in the millions of dollars.
Cash, prostitutes, use of a multimillion-dollar home and yacht, trips to swanky restaurants and nightclubs, jewelry, bounties for on-field play (including bounties for injuring opposing players) and travel.
Oh, and an abortion.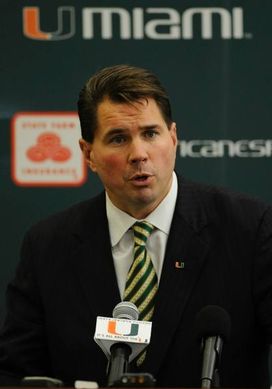 ICONAl Golden might wish he never left Temple after the NCAA gets done with Miami.
If you're first-year Miami head coach Al Golden right now, being head coach of the Temple Owls in the MAC is looking mighty appetizing this evening.
There are countless violations in this report. Here are some of the reported transgressions as well as highlights of the Yahoo! piece. It's safe to say that I'm still trying to wrap my head around this exhaustive report, which includes numerous sources and financial documentation to corroborate Shapiro's claims.
Effect on the 2011 Hurricanes
According to the report, a dozen current Hurricanes have been involved with Shapiro, including quarterback Jacory Harris, receiver Travis Benjamin, defensive back Ray-Ray Armstrong, All-ACC linebacker Sean Spence, defensive end Olivier Vernon and Dyron Dye, who recently moved from the defensive line to tight end.
Shapiro alleges these players benefitted from his generosity before he was arrested for defrauding dozens of individuals out of millions of dollars in the Ponzi scheme. Shapiro claims he was merely assuming the role of Luther Campbell, a rapper who was an influential booster of the university before the school distanced itself from him.
NCAA investigators arrived in Coral Gables on Monday. I expect them to camp out at the school for a very long time. This is no North Carolina or Ohio State. And that's saying an awful lot.
If you're Golden, you can't field these dozen players until this investigation is complete, and it's likely this probe will last past the 2011 season. For the Hurricanes, this is UNC 2010. But the Tar Heels had the depth to at least survive last season when Marvin Austin, Robert Quinn and Co. were shelved. Do the 'Canes?
One certainty to come out of this mess, however, is that Stephen Morris has essentially won the starting quarterback job in his battle with Harris.
Former Hurricanes
These are just two of the well-known former players at The U. mentioned in the report. In addition, NFLers such as Jonathan Vilma, Antrel Rolle, Andre Johnson and Frank Gore are listed.
Devin Hester
The current Chicago Bears receiver reportedly had a blast during his stint in South Beach. Shapiro allegedly provided the former Hurricane multiple extra benefits beginning in his freshman season, including: cash gifts, money for rims on his SUV, around $3,000 for an engagement ring, drinks and VIP access at nightclubs, meals at restaurants, lodging at Shapiro's $2.7 million Miami Beach home, access to Shapiro's $1.6 million yacht and jet skis, etc.
Vince Wilfork
The current New England Patriots defensive lineman allegedly received multiple extra benefits following his freshman season through his final game with the 'Canes. Among the benefits reportedly provided to him: a lump sum payment of $50,000 during his junior season to secure his commitment to Shapiro's sports agency, Axcess Sports, which he co-owned with then-NFL agent and current UFL commissioner Michael Huyghue; a washer and dryer worth approximately $1,500; and similar perks that Hester received as mentioned above.
These are just two examples of, quite simply, a lack of institutional control.

Other major programs involved?
Alabama: The report states that Shapiro broke NCAA rules with two current Alabama staff members: Offensive line coach Jeff Stoutland and director of football operations Joe Pannunzio, who was also an assistant under Tommy Tuberville at Ole Miss and Auburn. Stoutland and Pannunzio reportedly had knowledge of the illegal benefits being dished out to Hurricane players.
Florida: Aubrey Hill, the Gators receivers coach and recruiting coordinator, is mentioned in the report. He held the same position at Miami from 2008 to 2010 and reportedly knew of or had direct participation in NCAA rule violations committed by Shapiro.
Louisville: Cardinals assistant Clint Hurtt is also mentioned in the story. The Ville's recruiting coordinator was said to have participated in Shapiro's providing benefits to Miami players.
Also listed in the report in some capacity: Kansas State's duo of brothers Bryce and Arthur Brown (Bryce is a running back transfer from Tennessee while Arthur played at Miami); Florida receiver Andre Debose; and Purdue quarterback Robert Marve.
If I'm a coach at another school who has a player listed in this report, I can't see how I would risk the 2011 season by playing any of these individuals. The aforementioned assistants should not be allowed on the sideline, either.
*Missouri head basketball coach Frank Haith is also painted in a very bad light in this report. The former Miami head coach may not be long for Columbia after this investigation, and he has yet to even coach a game with the Tigers.
This was quite a report, and one that everyone should read. It's quite unbelievable, yet sadly not shocking.
Email dave.miller@nationalfootballpost.com or follow me on Twitter at Miller_Dave