September 12, 2012 -
Dave Miller
Identity crisis at Wisconsin?
Whether Bret Bielema's firing of offensive line coach Mike Markuson after only two games was the right move for Wisconsin remains to be seen.
What is certain is that the Badgers head coach and first-year offensive coordinator Matt Canada ought to be developing an offensive game plan this week that focuses on the power running game — an aspect of the offense that has been missing in Madison.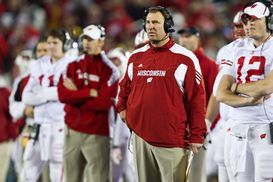 US PRESSWIREWill Bret Bielema's shakeup on the coaching staff ignite Wisconsin's run game?
Bielema maintained that he wasn't panicking when he fired Markuson after an abysmal performance up front in the team's loss at Oregon State. But there's no question that the team's offense is not performing up to the high standards it set after record-setting showings in the 2010 and 2011 campaigns.
After a sluggish performance against Northern Iowa in Week 1, the Badgers followed up with another clunker in Corvallis, and the Big Ten Leaders division now looks up for grabs. After two weeks, the Badgers rank 103rd nationally in rushing offense, averaging just 2.9 yards per carry.
We'll find out whether Bielema's promotion of quality control assistant Bart Miller to new offensive line coach makes a difference. Miller has strong ties to former offensive line coach Bob Bostad, and the terminology and teaching of technique will likely be similar. And whispers out of Madison tell the story that Markuson and Canada were not on the same page philosophically. The one certainty, however, is that this offense won't start moving the football consistently again unless it goes back to its physical, downhill ways.
Last year's Heisman Trophy finalist Montee Ball averaged just 3.8 yards per carry against Northern Iowa before only getting 15 carries in the team's loss to Oregon State this past week. We've seen Ball display his ridiculous talents the last few years, so his slow start to the year obviously is a surprise. Although it is nearly impossible to repeat his 2011 campaign, in which he tied an FBS record with 39 total touchdowns, he has not been able to come close to his dominant ways thus far this fall. James White has also not been able to be effective, although he only received three carries in the loss to the Beavers. That's just not Badger football.
And that subpar rushing attack has affected new starting quarterback Danny O'Brien, as well. The Maryland transfer will not be able to successfully run the team's play-action game without an efficient ground game. We saw how dominant Russell Wilson was last year with various play-action and rollout plays. That aspect of the offense has been missing thus far.
In addition to losing longtime coordinator Paul Chryst, the departure of Bostad was also a big blow to this Badgers offense. Bostad, who inititally joined Chryst at Pitt before deciding to move onto the NFL, oversaw an offensive line that nearly helped produce three 1,000-yard rushers for the Badgers in 2010. And there are currently four Bostad-coached offensive linemen in the NFL, with former Outland Trophy winner and current Chicago Bear Gabe Carimi chief among them. The Badgers came into this season having to replace two All-American offensive linemen for the second consecutive year, and it's certainly understandable that the team needed time to adjust after losing All-Big Ten selections Peter Konz, Kevin Zeitler and Josh Oglesby. But Markuson has 14 years of experience as a respected line coach in the SEC, so he didn't forget how to coach. Philosophically, though, it didn't seem like this new offensive staff was entirely on the same page. And when Bielema hired Canada as his offensive coordinator, he maintained that the offense would look similar.
So what gives?
There's no question this line remains very talented despite losing some key personnel to the next level. The question is whether this offensive staff will put the unit in the best position to succeed moving forward. And that begins with a run-first mentality, which in turn will make O'Brien's job much easier.
Bielema believes Miller is the right coach to guide his offensive line. But unless Canada and Miller are on the same page, we might not see such a productive offense in Madison after all.
Email dave.miller@nationalfootballpost.com or follow me on Twitter at Miller_Dave