January 03, 2013 -
Dave Miller
If Kelly leaves for the NFL, what's next for Oregon?
Unless Chip Kelly turns out to be a subpar interviewee, it appears that his days as the head coach of Oregon are numbered.
With the leader of the Ducks' high-octane offense scheduled to interview with three NFL clubs, Kelly's interest in moving on from the college game is genuine after nearly becoming the head coach of the Tampa Bay Buccaneers last offseason. Add in the fact that Oregon remains in hot water with the NCAA and the fact that he hasn't exactly dismissed any NFL rumors, and the popular opinion among many NFL personnel and college football observers is that Oregon will need to be filling a head-coaching vacancy soon after the team's Fiesta Bowl contest against Kansas State.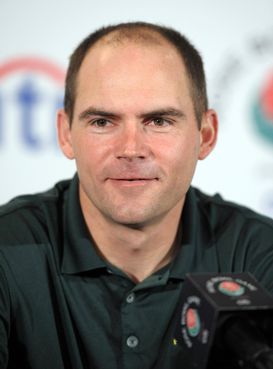 US PRESSWIREIf Chip Kelly leaves, it would be seamless for Oregon to transition to OC Mark Helfrich as its new head coach.
The question then would become who would be at the top of the list for the Ducks?
Well, the school may already have the new head coach within the program.
It would be very seamless for the Ducks to transition to offensive coordinator Mark Helfrich as their new head coach, much as the program did in 2009 when Kelly took over for Mike Bellotti. After all, Helfrich would have assumed the role of head coach roughly a year ago when Kelly almost took the Bucs job.
Sure, it would have been almost necessary for Helfrich to take over last year if Kelly left because of the timing. Greg Schiano eventually took the Bucs job in late January, shortly before National Signing Day. The Ducks would have had no choice but to stay in-house if Kelly left because of the departure's proximity to NSD.
However, it's important to note that the school's most prominent booster, Nike co-founder Phil Knight, would approve of Helfrich's promotion to head coach if Kelly leaves. There have already been whispers that Oregon has a plan in place for the 39-year-old Helfrich to replace Kelly if he bolts because school officials believe that he is ready to be the face of a program. While he may not call plays, Helfrich is deeply involved in each offensive game plan and understands the intricacies of the offense.
While Helfrich would be a natural hire, expect the Ducks to speak with representatives of Boise State head coach Chris Petersen, whose name has repeatedly been linked to this job if Kelly was to ever leave. Even though Petersen's name is always attached to numerous major openings each offseason, the Oregon job might be the only one he would leave Boise State for because he is familiar with Eugene from being an assistant there for six years, and it's a place that he can envision staying for the duration of his career.
We will see if Kelly leaves for the NFL this offseason. But it unquestionably seems more a matter of not "if" but "when."