August 06, 2013 -
Dave Miller
If Manziel plays, will Texas A&M pay?
The NCAA is investigating reigning Heisman Trophy winner Johnny Manziel as to whether the Texas A&M starting quarterback took money for signing memorabilia this past offseason, which would be a violation of NCAA rules. Bylaw 12.5.2.1 prohibits student-athletes from accepting money for promotion or sale of a product or service.
While Aggies head coach Kevin Sumlin maintained at a press conference Monday that his team will prepare for the new season with Manziel as the starter, he may be doing a disservice to his team's chances of success this fall if he does not prepare a backup quarterback who is capable of stepping in and leading the offense should Manziel be deemed ineligible.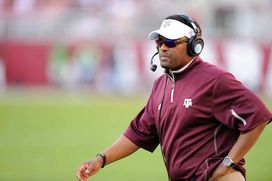 US PRESSWIREWill Kevin Sumlin be forced to make a move at QB in College Station?
There's no question that Manziel was the single-biggest reason why A&M was able to successfully transition into the SEC in its first season, as the Aggies beat Alabama on the road, became a nationally recognized program and earned a berth to the Cotton Bowl.
All the way through the breakthrough season, the team was led by the dual-threat signal-caller who set numerous records en route to becoming the first freshman ever to win the prestigious Heisman hardware. Manziel led the Aggies to an 11-2 record and a Top 5 finish in the AP poll for the first time since 1956.
But there are now real questions about Johnny Football's eligibility, so the Aggies must be prepared for the worst in this case. However, Sumlin maintained that Manziel will get as many reps as he would have received before Sunday night's news. And although new offensive coordinator Clarence McKinney said that tabbing a backup quarterback was part of the team's list of goals for preseason camp, as of now it doesn't appear that those other signal-callers will be getting some of Manziel's reps — at least for now.
Until the investigation is concluded, the eligibility of Manziel is in question. So by letting Manziel remain the starter and get the majority of the reps, Sumlin risks playing a potentially ineligible player.
At his presser on Monday, Sumlin said "a lot of people [would be] involved" in any decision surrounding Manziel. No matter how many higher-ups ultimately would have a voice, taking swift action may be in the Aggies' best interest in this case.
In his first season in College Station, Sumlin was able to make his offense look less like the Air Raid attack that Case Keenum ran at Houston and more of an approach that took advantage of the team's productive running backs and more reliant on the dual-threat capabilities of Manziel. So shifting gears offensively is one of Sumlin's strong points. And while the timing of this Manziel situation is not ideal, Sumlin at least would have time to decide which backup would be best to keep this offense moving effectively. With running back being a major strength of the offense, whomever is determined to be next in line would at least have the luxury of a strong complementary ground game.
Right now Matt Joeckel, Matt Davis and Kenny Hill are the main candidates to compete for the main backup role and possible starting job. Determining which one is most ready is of utmost importance. If Sumlin continues to give the majority of the reps to Manziel, the best of that bunch at least needs to know that he should be ready to step in at any moment — and possibly for the duration of the season depending on how long this investigation goes on and what comes of it.
When Cam Newton was investigated at Auburn, the Tigers worked closely with the NCAA because the probe came so late in the season and it centered around the best player on an undefeated team. But will the NCAA be so swift this time around seeing as how we are only in August?
Joeckel, who attempted just 11 passes last season, is essentially the top backup right now. But he is more of a dropback passer. Meanwhile, Davis and Hill are dual threats like Manziel. So Sumlin essentially would have to shift the offense slightly if Joeckel's experience wins out. It is a difficult task, but one that would be less strenuous the earlier the ball gets rolling. For now, though, Sumlin and Co. are content to remain with the status quo.
Former Georgia star receiver A.J. Green had to sit four games for selling a jersey for $1,000 a few years back, which is much less money than the reported five-figure deal that Manziel received. So if reports are true that Manziel received such an amount, it's a real possibility that he will not be in the lineup when Alabama arrives in College Station in September.
Without a paper trail, the NCAA may not be able to do much with Manziel. A&M faces a major dilemma, however, in the meantime. The Aggies can play him and hope nothing surfaces. Or they can sit him and play it safe. However, if they play him and he's deemed ineligible, any hope for a BCS title game is dashed.
Although, without Johnny Football, an appearance in Pasadena would be a long shot anyway. Perhaps Sumlin realizes that as well.
Dave Miller, the college football editor and writer for the National Football Post, is on Twitter @Miller_Dave.