August 16, 2011 -
Dave Miller
Impact transfers to watch
Last Tuesday here at the NFP, we took a look at the top impact junior-college transfers to watch in 2011, including Georgia defensive tackle John Jenkins and Oregon wide receiver Rahsaan Vaughn.
Today, let's take a look at which FBS transfers could make big impacts at their new schools in 2011 (players listed in no particular order)…
QB Russell Wilson, Wisconsin: The arrival of Wilson at Wisconsin from N.C. State certainly made the most noise this offseason. While I still believe that Jon Budmayr could have played well enough under center to lead the Badgers to a Leaders division title (before he suffered an apparent injury to his throwing arm in fall camp), Wilson's pedigree certainly was too impressive to pass up: 8,545 yards and 76 touchdowns through the air and 1,083 yards and 17 scores on the ground in three seasons as a member of the Wolfpack. He just needs to nail down the terminology of coordinator Paul Chryst's offense and he will do just fine. So far in fall drills, he is making a smooth transition.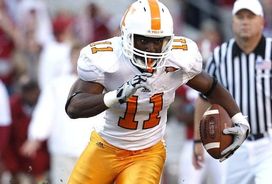 Former Tennessee RB Bryce Brown hopes to fill the void left by Daniel Thomas at Kansas State.
RB Bryce Brown, Kansas State: The Wildcats will have the Brown Brothers making their debuts in Manhattan this season: linebacker Arthur from Miami and running back Bryce from Tennessee. It was the younger sibling Bryce who earned preseason All-Big 12 honors despite rushing for less than 500 yards as a freshman in 2009. However, he did battle a hip injury before that debut campaign. Once the top recruit in the nation, the 6-foot, 220-pounder excelled in the Wildcats' spring game and could provide the lift to a rushing attack that will need it with Daniel Thomas having moved onto the NFL.
WR Dan Buckner, Arizona: Buckner could have a breakthrough season in Tucson after catching 44 passes for 445 yards for Texas during its run to the BCS national championship game two years ago. He left Austin after being arrested on two misdemeanor charges, but he has arrived in Tucson with a seemingly newfound focus. At 6-4, he's another big target whose speed gives quarterback Nick Foles yet another big-play option along with Juron Criner. Opposing Pac-12 defenses are in for long Saturday afternoons and evenings when going up against this prolific passing attack.
LB Jarvis Jones, Georgia: The transfer from USC is finally ready to be a part of coordinator Todd Grantham's defense at Georgia after the NCAA deemed him eligible to play after it was determined that he did not violate any NCAA rules by receiving benefits while playing AAU basketball in high school. The sophomore is slated to start at strongside linebacker and is expected to be one of the Bulldogs' playmakers on defense. His versatility is much-needed for the 'Dawgs as they prepare for back-to-back tough contests against Boise State and South Carolina to open the season.
LB Uona Kaveinga, BYU: Another former Trojan who was able to leave because of the program's sanctions, the junior Kaveinga could emerge as one of the Cougars' best defenders this fall at inside linebacker. While the 5-11, 236-pounder played primarily on special teams for Pete Carroll, he was lost in the once-deep talent pool at 'SC. In Provo, coaches have raved about Kaveinga since he was taking snaps on the scout team last fall. Along with returning starters Brandon Ogletree and Jordan Pendleton, this could be one of the most underrated linebacker corps in the country.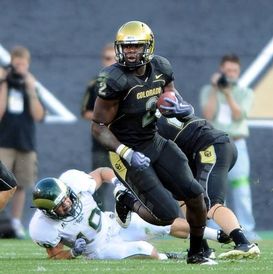 South Florida RB Darrell Scott was humbled by his experience at Colorado.
RB Darrell Scott, South Florida: When Skip Holtz arrived at USF, he maintained that he wanted the Bulls to have a more dangerous rushing attack. Enter Scott, who didn't exactly wow Colorado fans during his two seasons in Boulder as he totaled only 459 yards on the ground. The 6-1, 239-pound redshirt junior is humbled after not meeting expectations at CU, and he could give the Bulls a real downhill threat. Further, he has one less competitor in USF's backfield vying for carries: Auburn transfer Dontae Aycock left the team recently after saying his heart wasn't in football anymore.
QB Zach Maynard, Cal: It's been awhile since head coach Jeff Tedford has had steady play under center in Berkeley. Former Buffalo starter Zach Maynard hopes to bring stability to the position this fall after beating out incumbent Brock Mansion. In two years with the Bison, Maynard threw for 2,701 yards and 18 scores while tossing 15 interceptions. He added 356 yards on the ground. The left-handed junior brings a different dimension to Cal's offense because he's a dual-threat signal-caller. But with dynamic receivers in junior Keenan Allen and senior Marvin Jones, Maynard's main priority is getting the ball into the hands of the team's best playmakers.
TE Blake Ayles, Miami: No matter who wins the battle under center between Jacory Harris and Stephen Morris, Miami's signal-callers will have a solid pass-catching option in Ayles, who arrived after leaving USC amid its sanctions. Ayles has been banged-up this fall, so the 'Canes moved former defensive end Dyron Dye to tight end. Expect a lot of two-tight end sets from Miami this fall, though, so Ayles should see enough time on the field if healthy.
Email dave.miller@nationalfootballpost.com or follow me on Twitter at Miller_Dave