December 27, 2010 -
Dave Miller
Independence Bowl preview: Georgia Tech-Air Force
Monday afternoon's Independence Bowl matchup between Georgia Tech and Air Force kicks off a big week of college football action. With Christmas in the books, all eyes are focused on New Year's Day and the loaded bowl schedule throughout the next couple of weeks as we look toward the BCS national championship game.
Here's a closer look at the contest between the ACC's Yellow Jackets and the Falcons of the Mountain West Conference.
Georgia Tech (6-6, 4-4 ACC): This certainly wasn't the type of season head coach Paul Johnson envisioned for his Yellow Jackets after winning the ACC and earning a berth to the Orange Bowl last season. But first-year defensive coordinator Al Groh's 3-4 scheme didn't really catch on in Atlanta, and Tech sputtered its way toward the end of the year with a new quarterback under center after Joshua Nesbitt suffered a broken forearm.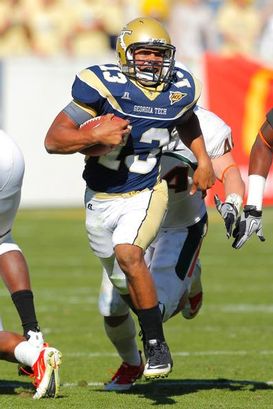 ICONQB Tevin Washington will try to run Georgia Tech's offense efficiently against Air Force.
Tevin Washington will start for the Jackets and he'll look to build some momentum heading into 2011 spring practice. As a starter he is 1-2, and he'll need to run the option attack efficiently to keep pace with an Air Force squad that is averaging 32.3 points per game with its own lethal triple-option offense.
Air Force (8-4, 5-3 MWC): While Georgia Tech leads the nation in rushing at 327 yards per game, Troy Calhoun's Falcons are right behind the Jackets at 317.9 yards per contest. Because the two teams combine to average just over 12 pass attempts per game, this game may be over before the work day even ends for most of the nation.
Tim Jefferson's 769 yards on the ground are the most by an Air Force signal caller since Chance Harridge had 914 in 2003, and it's likely that the Falcons would not have won the Commander-In-Chief Trophy for the first time since 2002 without him. The junior had a Mountain West Conference-best 15 rushing touchdowns, and he also threw for a career-high 1,342 yards this season. So while the Falcons don't throw often, Jefferson at least gives them a bit of a threat — something that the Yellow Jackets lack.
While both teams run versions of the triple-option, Georgia Tech's defense has only really seen it during practice. But during the season, most of their defensive aspects of practice were designed to stop scout team offenses — and the Jackets didn't play an option attack this season. Air Force, meanwhile, played Army and Navy. Groh's unit has struggled against the run, giving up nearly 170 yards on the ground per game — No. 78 in the country. And that was when the Jackets were at full strength.
In the last week, Georgia Tech lost starting safety Mario Edwards, reserve outside linebacker Anthony Barnes and reserve defensive end Robert Hall to suspension due to academics. And it was just announced on Sunday that starting outside linebacker Anthony Egbuniwe, along with reserve defensive backs Michael Peterson and Louis Young, will miss the first half of the game against the Falcons for missing curfew on Friday night. That's a heck of a blow to your defensive personnel, especially against such a prolific offense that is already unique and difficult to contain.
I'm not sure Georgia Tech's size advantage up front will even be a factor because the offensive line of Air Force is really underrated and more athletic than most academies. The Falcons rarely double-team — their linemen are just fundamentally sound. Tech should be able to put up points if Washington is more comfortable with the extra practice time, but the Falcons are too much of a well-oiled machine with Jefferson leading the way.
The numbers don't lie
• Georgia Tech has lost five straight bowl games and is looking to avoid a losing season for the first time in 14 years.
• Paul Johnson defeated Air Force five straight times when he was head coach at Navy.
• The Yellow Jackets have lost four of their last five games.
• Georgia Tech needs only 28 rushing yards to set the ACC's single-season record. Wake Forest has held the record of 304 yards per game since 1971.
• Air Force has won eight or more games for the fourth straight season. Troy Calhoun is the first and only head coach to do it.
• The Falcons have scored in 219 straight games — the 14th-longest streak in NCAA history.
Email dave.miller@nationalfootballpost.com or follow me on Twitter at Miller_Dave