December 28, 2012 -
Dave Miller
Independence Bowl preview: Ohio vs. Louisiana-Monroe
The 2012-13 college football postseason continues Friday as Ohio and Louisiana-Monroe collide in the Independence Bowl.
Let's take a glance at this matchup between the Bobcats and the Warhawks.
Ohio (8-4) vs. Louisiana-Monroe (8-4) at 2 p.m. ET on ESPN
Shreveport, Louisiana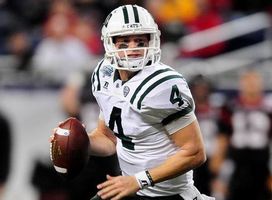 US PRESSWIREQB Tyler Tettleton paces the Ohio offense.
For awhile, especially after defeating Penn State on the road in its opener, Ohio was considered the best bet to be a BCS buster in 2012. Of course, Northern Illinois claimed that title when it landed a spot in the Orange Bowl. After reaching the Top 25 for the first time since 1968, the Bobcats lost four of their last five games. But Frank Solich's squad still earned a solid postseason opponent in Louisiana-Monroe, which knocked off Arkansas and was close to defeating both Auburn and Baylor this fall. The Bobcats are paced on offense by junior dual-threat quarterback Tyler Tettleton, who has recorded 2,713 yards of total offense and 21 scores despite being hampered somewhat by injuries, and running back Beau Blankenship, who rushed for 1,500 yards this season.
Louisiana-Monroe, meanwhile, is making its first bowl appearance in program history. Todd Berry's Warhawks were able to record eight wins this season, and a lot of the credit should go to junior quarterback Kolton Browning, who passed for 2,830 yards and 27 touchdowns this fall. The lefty completed 65 percent of his passes to his deep receiving corps and threw just seven interceptions, and he can also make plays with his legs as well. The Sun Belt offensive player of the year is the team's leading rusher with 441 yards and seven scores on the ground.
Ohio, which registered its first bowl win in program history last year, will be without two starting offensive linemen in this one. However, O-Line play hasn't been great all season for the Bobcats anyway. Stopping the run is what ULM does best defensively, so Tettleton and Blankenship will be challenged. The Bobcats hope that their QB isn't forced to deal with a lot of third-and-longs, deeming the offense one-dimensional. The Warhawks will get a boost in the secondary with the return of redshirt freshman safety Mitch Lane, who missed five games due to injury.
ULM, which will be playing roughly 100 miles from its campus, will have to rely even more on Browning after season-ending injuries to running backs Jyruss Edwards and Centarius Donald. Monterrell Washington will need to step up and help carry the rushing load because Ohio is susceptible on the ground. Even with the injuries in the backfield, though, the Warhawks should be able to take advantage of an Ohio defense that has given up an average of 35.3 points per game during its current three-game losing streak.