March 25, 2011 -
Dave Miller
Injury bug leaving USC defenseless
If anything, USC was supposed to be able to rely on its defense in 2010. After all, the Trojans landed respected defensive guru Monte Kiffin when son Lane decided to return to Los Angeles and replace Pete Carroll as the team's head coach.
But somewhere between Knoxville and the 'SC campus, the Tampa 2 stopped working. And Trojan defenders stopped tackling.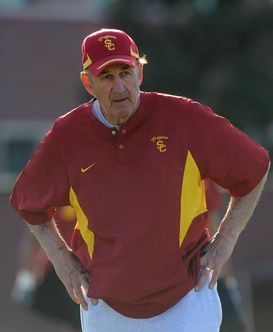 ICONMonte Kiffin's defense didn't perform up to expectations last season.
A disappointing 8-5 campaign followed.
Fast forward to the start of spring practice this past Tuesday, and another problem arose for this underachieving unit: the lack of healthy bodies.
And the attrition started up front, where the Trojans were supposed to be the strongest.
Defensive lineman Armond Armstead was hospitalized this month with an unspecified condition and has yet to be cleared to play. Tackle Christian Tupou likely will remain sidelined this spring after missing the 2010 season following knee surgery. And end Wes Horton is limited with a bad foot.
While it's only spring, it's not the way Kiffin wanted to start his early preparations for 2011 as he tries to revamp his sluggish unit. On the bright side, line coach Ed Orgeron does have DaJohn Harris and Nick Perry healthy and ready to lead what should be an improved front — a unit that must play much more consistent and physical than it did last season.
The injury bug has hit the linebacker corps, as well, with rising senior Chris Galippo dealing with back spasms. Galippo is a key piece to the defense because he's likely going to be asked to play in the middle with Devon Kennard shifting back outside. Of course, Kennard and fellow 'backer Shane Horton are sidelined as well while recovering from hip injuries. If you factor in the injury to backup Ross Cumming, the lone available 'backer from last season expected to contribute this spring is redshirt freshman Will Andrew.
The only blessing for the Trojans is that youngsters Hayes Pullard, Marquis Simmons and Simione Vehikite will receive plenty of reps, in addition to converted safety Dion Bailey, as the team looks to build its depth while it appeals NCAA sanctions.
The secondary is banged-up, as well, with Torin Harris and T.J. Bryant sidelined after recovering from shoulder surgeries. Starting cornerback Nickell Robey, however, is available. This is a big offseason for the secondary as 'SC adjusts to the prolific passing attacks of Pac-12 offenses. Lane Kiffin said the Trojans faced more than 600 plays in 2010 against three or four wide-receiver sets.
But Kiffin, entering his second season as head coach, isn't even sure how the squad will scrimmage this spring unless he gets some of his players back. When camp opened on Tuesday, 20 players were not available for full-contact work. The team likely will be forced to rely on 7-on-7 drills instead of full-squad scrimmages during these sessions.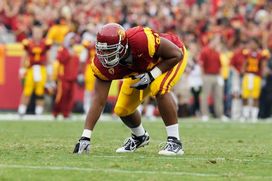 ICONArmond Armstead is one of many Trojans sidelined this spring.
The big question remains, when some of the wounded do return to full health, how exactly will the defense respond to its sluggish play in 2010?
While younger players certainly will benefit from increased reps with some of their elder teammates sidelined, no defender really had a standout season — veteran or otherwise. While spring ball may be dismissed because of its irrelevance in the next season's standings, the teaching that occurs during these 15 practices is invaluable. And if a player is sidelined, it certainly doesn't promote his growth as a player — particularly a defender in a complicated scheme such as Monte Kiffin's.
Keep an eye on
DT George Uko: The 290-pound redshirt freshman is athletic and should get plenty of reps with the line depleted due to injuries. Uko is athletic enough to fight for time in the rotation in the fall, or at the very least help with the line's depth.
The other serious concern
Kiffin is worried about the depth of the offensive line after the unit lost four starters or key contributors from last year's squad. Tyron Smith, Kris O'Dowd, Butch Lewis and Mike Reardon are gone. And the lone returning starter, guard Khaled Holmes, could miss the spring because of recurring neck stingers. Reserves Kevin Graf and Abe Markowitz are also out with shoulder and foot injuries, respectively.
USC's spring game will be held on April 23 at the Coliseum.
Email dave.miller@nationalfootballpost.com or follow me on Twitter at Miller_Dave