January 03, 2011 -
Dave Miller
In-season turnarounds becoming norm for Hokies
Virginia Tech couldn't have scripted a more miserable start to its season.
Entering 2010 with a senior quarterback and running back depth every coach in America could only dream of having on his roster, the Hokies had the nation's full attention on Labor Day night when they played Boise State in what was essentially a home game at FedEx Field.
But Kellen Moore and the Broncos made sure that this season would be all about the non-AQ teams. And after Boise's heartbreaking loss to Nevada late in the year and TCU's victory over Wisconsin in the Rose Bowl, in reality this season really was about the little guys.
Yes, the Hokies know all too well about the little guys.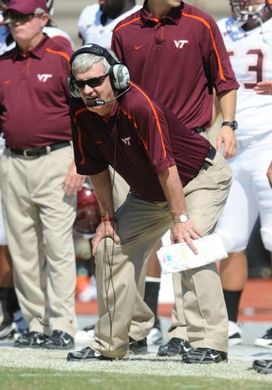 ICONFrank Beamer kept his team together after a rough start to the season.
Just five days after falling to the Broncos, Frank Beamer's squad fell to FCS foe James Madison at home. It was a crushing blow to a team that was supposed to contend for an ACC title and perhaps even more if the defense matured over the course of the year.
Just like that, in a five-day span, Virginia Tech was sitting at 0-2.
But the Hokies had been there before under Beamer.
In 1995, Virginia Tech also began the season with consecutive losses before rallying to win its final nine games to earn a berth to the Sugar Bowl. The Hokies made it ten in a row to end the season as they beat Texas 28-10 at the Louisiana Superdome.
In 1999, they also won 11 in a row with redshirt freshman Michael Vick under center. Tech went on to lose to Florida State in the Sugar Bowl, failing to win the national championship after storming back from a big early deficit against the Seminoles.
And now, with the calendar turned to 2011, Virginia Tech's season is not done yet. From 0-2 on the afternoon of Sept. 11 to 11-2 and ACC champions on Monday night when the Hokies battle perhaps the best one-loss team in the nation — Jim Harbaugh's Stanford Cardinal — in the Orange Bowl.
Instead of burying their heads, Beamer's bunch realized that conference play offered the opportunity to salvage what appeared to be a lost season. When they weren't taking care of nonconference foes East Carolina and Central Michigan, the Hokies breezed through the conference slate before claiming the ACC title with a victory over Florida State in the league championship game.
What was the key to the turnaround? Well, it starts with a dual-threat signal caller who quietly became better and better as his college career progressed. Tyrod Taylor, known more for his running ability, set career highs in passing yards (2,521), completion percentage (60.6) and touchdowns (23). He also tossed just four interceptions, his lowest total since his freshman season when he had 150 less passing attempts. The senior, who has led the Hokies to 34 career wins as a starter and was named the ACC's player of the year, improved on his accuracy and became better at keeping his eyes down the field and making plays instead of automatically looking to run upfield. Of course, his running ability is an added bonus. He is Tech's career quarterback leader in rushing yards (2,174) and rushing touchdowns (23).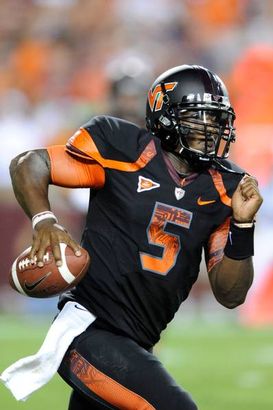 ICONQB Tyrod Taylor had a standout senior season in Blacksburg.
But Taylor didn't need to carry the load on the ground for the Hokies, as they just happen to have a standout trio that does all the dirty work for him. Sophomore David Wilson, redshirt sophomore Ryan Williams and redshirt junior Darren Evans have logged more than 3,000 yards on the ground this year, but that trio may be a one-man show against the Cardinal.
Wilson, who has 1,353 all-purpose yards and 10 touchdowns, will be held out of the first quarter after missing curfew on New Year's Eve. Williams, who has recorded 2,128 rushing yards and found the end zone 30 times in his career, will be a game-time decision as he battles an injured hamstring. Beamer did think he looked better on Saturday, at least. That leaves Evans as the probable starter. He netted 817 yards and 11 scores on the ground this season. That depth in the backfield was tested all season as the trio never seemed to be healthy at the same time. Eleven wins later, nothing has changed.
However, the nation's No. 18 rushing offense, which averages 208.9 yards per game, will be tested by a Cardinal defense that ranks No. 24 in the nation against the run. This could be a game where Taylor has to make more plays with his arm than his feet. And getting into a shootout with Stanford quarterback Andrew Luck could be a problem.
Is the Hokies defense up to the challenge? Coming into the season, Bud Foster's unit was as green as it's ever been in his tenure at the school. The defense returned just three starters — tackle John Graves and defensive backs Rashad Carmichael and Davon Morgan. But the Hokies have allowed just 19.1 points per game and 21 points or less in seven of their last eight contests. They also wound up with five All-ACC performers on defense, including All-America cornerback Jayron Hosley.
Besides inexperience, Tech also dealt with the season-ending injury to linebacker Barquell Rivers and an injury to linebacker Lyndell Gibson that leaves Tariq Edwards as his replacement on Monday night. But it seems as though a different defender steps up every week. That collective effort will need to continue against a balanced Cardinal team averaging 40.3 points per contest.
Virginia Tech is 1-26 against Top 5 teams in its history, and Stanford checks in at No. 4 in the BCS standings. The Hokies are also 0-2 against teams from California, losing to Cal 52-49 in the Insight Bowl in 2003 and dropping the season-opener to Southern Cal 24-13 in 2004. It will certainly be a challenge Monday night at the Orange Bowl, and the Hokies are certainly underdogs. But based on their standing just two weeks into this season, being an underdog is just fine. After all, they've proven that they know how to handle adversity.
Email dave.miller@nationalfootballpost.com or follow me on Twitter at Miller_Dave