June 04, 2012 -
Dave Miller
Inside the issues of a college football playoff
As we get closer to the next scheduled meeting of BCS officials on June 13 in Chicago, where the group hopes to have a playoff model in place, let's take a look at what we know and what we don't know heading into the first full week of June. As you will see, there's a lot of uncertainty as conferences have their own respective agendas.
• The Plus-One model isn't an option, is it? Well, Pac-12 commissioner Larry Scott brought up the idea being back on the table after the SEC and Big 12 made an agreement to schedule a Champions Bowl that will take place when the new playoff model takes form. While every conference has taken its own position on what it wants the new postseason to look like, Scott seemed to be the only figure still discussing the Plus-One model as being a legitimate option. Well, him and Nebraska chancellor Harvey Perlman, who represents Big Ten university presidents/chancellors. Perlman, who also is a member of the Presidential Oversight Committee that will give the final consent on a new postseason model, maintains that a good number of Big Ten and Pac-12 representatives are not sold on the four-team playoff that many assumed was a done deal. And on a conference call Monday, Big Ten commissioner Jim Delany says that a Plus-One is still on the table. So we clearly see the Big Ten/Pac-12 alliance playing out there. But because the new postseason needs to be a unanimous decision and not one of majority, every conference has to be on the same side of the equation. That is not the case right now. However, it's tough to imagine a Plus-One model winning out over a four-team plan, though I feel that a Plus-One would be a more than suitable first step. However, it's very likely that the playoff we end up with will indeed consist of four teams.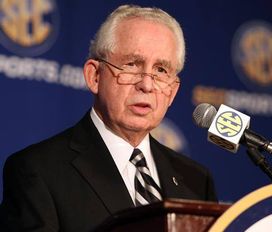 Mike Slive and the SEC do not want an impending playoff to be limited to conference champs.
• In a four-team playoff model, how will the teams be selected? This question remains a pressing issue, as conferences are divided on whether the playoff participants should be conference champions only. Some favor that stipulation, while others do not agree with such a plan. The SEC, of course, is one conference that does not believe it should be exclusive to conference champs. See last year's Alabama BCS national championship team. Along with the SEC, the Big 12 is in favor of awarding the best four teams while the Big Ten, ACC and Pac-12 favor rewarding conference champions. The Big East favors the conference champs model as well, but will that league's opinion even matter? The smaller conferences, meanwhile, favor the top four teams getting in because that's their only access point. Because the new system needs to be voted in unanimously and not by majority, compromise will be needed.
• If the SEC doesn't want to be tied down by having conference champions only, it isn't going to agree to such a format. What is most likely to occur is taking the three highest-rated conference champs (or if there's a selection committee, the three strongest conference champs) and one wild-card team, so that an Independent like Notre Dame or a strong team that did not win its conference (see 2011 Alabama) would get in.
• Regarding a possible selection committee, I'm not in favor of it but some officials prefer such a group to select the four teams for the playoff. I am simply in favor of tweaking the BCS by eliminating the coaches vote and putting in a strength of schedule component. Will this happen? Who knows. Perhaps in the weeks before the June 20 meeting we will hear more whispers. The other question is which type of college football officials would comprise the committee?
• What we are fairly certain of is that the semifinal playoff games will take place within the bowls and the title game will be bid out, much like the Super Bowl each year, to cities such as Houston, Dallas, Indianapolis, etc.
• One issue going under the radar is how the money from the playoff pie will be divided. It looks more and more certain that the non-BCS leagues like C-USA, Mountain West, etc. will be pushed further and further away from the major BCS conferences because of unequal distribution. With television execs from ESPN, NBC, FOX, etc. bidding on this playoff package, plenty of cash is at stake. And that large chunk of cash will be enjoyed largely by the big boys of college football: the SEC, Big Ten, etc. Revenue negotiations will be very very contentious.
• As noted above, if it were up to me I'd choose the Plus-One model, a format in which two teams would play for the national title after all of the bowl games are played. It protects the bowls and the regular season, which is the best in all of sports. My second choice would be a four-team playoff. However, I don't see how a four-team playoff isn't any less controversial than the system now. There's debate with the current BCS system picking two teams. Just wait until there's four squads, when team No. 5 is arguing for its rightful place. Thus, an eight-team playoff would make more sense. However, that won't occur for a very long time because this impending deal will likely be for at least eight years.
Email dave.miller@nationalfootballpost.com or follow me on Twitter at Miller_Dave