January 10, 2012 -
Dave Miller
Iowa's pattern of departing running backs continues
Iowa fans are becoming accustomed to seeing prolific running backs leave the program.
Unfortunately, another departure can be added to the ever-growing list.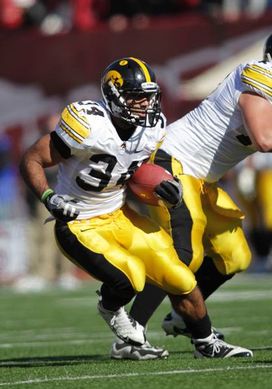 ICONMarcus Coker is leaving Iowa after finishing second in the Big Ten in rushing yards.
Iowa announced Tuesday that Marcus Coker is leaving the school, making him the fifth talented running back to leave the Hawkeyes in the past 15 months. The school said that Coker has asked for and been granted a release from his scholarship but didn't disclose any details.
As a sophomore this past fall Coker rushed for 1,384 yards and 15 touchdowns, but the 6-foot, 230-pounder was suspended for the Insight Bowl after violating an unspecified team rule. He finished second in the Big Ten in rushing yards, and his physical presence worked perfectly in Iowa's pro offense.
Last week, it was announced that freshman Mika'il McCall would transfer, and the Hawkeyes have also seen Adam Robinson, Brandon Wegher and Jewel Hampton leave the program in the last year-plus.
Moving forward, freshman Jordan Canzeri could assume the starting role after leading the team with 58 rushing yards in the bowl loss to Oklahoma. Damon Bullock, De'Andre Johnson and Brad Rogers should also be in the mix as well as a possible true freshman or two.
Certainly, losing Coker is a big blow to an offense that struggled with consistency in 2011.
Email dave.miller@nationalfootballpost.com or follow me on Twitter at Miller_Dave