September 26, 2011 -
Dave Miller
Iowa's picking up the pace offensively
Down three scores to Pittsburgh two weeks ago, Iowa needed points -- and fast.
So Kirk Ferentz's squad began to pick up the pace offensively and deviate from the normal methodical Hawkeyes offense, employing a no-huddle, hurry-up attack.
The pass-happy scheme led by quarterback James Vandenberg helped rally the team to a come-from-behind victory over the Panthers, and the new-look attack continued to be a force this past weekend in a 45-17 romp over Louisiana-Monroe.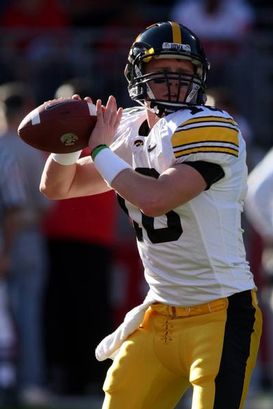 ICONQB James Vandenberg has helped the Hawkeyes put up big numbers the past two weeks.
So will Iowa City be home to an explosive offense featuring big numbers this fall?
"It's something we'll fool around with, and as we go along, it's something we can integrate into our thinking," Ferentz told Hawk Central.
Vandenberg certainly has enjoyed the benefits of the aerial onslaught, no matter how long it remains a component of this offense moving forward. He threw for 270 yards and three touchdowns against UL-Monroe, including 198 yards in the opening half. He found Marvin McNutt for touchdown passes of 13 and 17 yards to put the Hawkeyes up by 25 late in the second quarter.
"[The hurry-up attack] is a good spark for our offense," Vanderberg said. "It gets us going. The ball's going everywhere and it catches the defense off guard. It's really an easy way to get everybody involved quick and get in a rhythm."
Of course, former Hawkeye signal-caller Ricky Stanzi has to be at least a little jealous his heir apparent gets to lead such an aerial attack.
"I'm sure I'm going to get a text from Rick," Vandenberg said. "I got one last week about how he started for three years and never got to throw 48 times."
The Hawkeyes haven't forgotten how to run either, as Marcus Coker added 113 yards rushing and a pair of touchdowns on Saturday.
What's most important for Iowa as we move into Big Ten play is staying consistent and proficient offensively -- no matter what kind of scheme is run. The Hawkeyes earned 28 first downs and converted all six of its red zone chances against the Warhawks, so continuing to move the football to help a maturing defense is crucial as the team enters conference play.
Email dave.miller@nationalfootballpost.com or follow me on Twitter at Miller_Dave