August 18, 2011 -
Barry Dorey
Irvin: Shapiro is a 'snake' and a 'rapist'
Nevin Shapiro is seemingly being called every name in the book, especially by members of The U.'s family.
The disgraced former Miami booster, who levied serious and extraordinary allegations against the athletic program in a Yahoo! Sports report, has taken hits from former Miami head coach Jimmy Johnson as well as infamous Hurricanes supporter Luther Campbell.
But former wide receiver Michael Irvin takes the cake when it comes to insults, as the WQAM in Miami radio host sounded off on Shapiro during an appearance on ESPN Radio in Los Angeles. Irvin, however, seemed more offended at the $930 million Ponzi scheme that Shapiro ran, which cost many people in excess of $80 million. Shapiro is currently serving a 20-year sentence.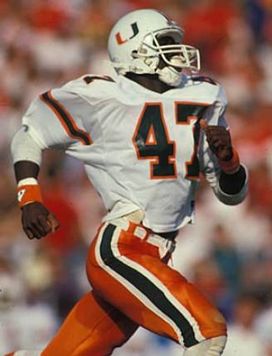 Michael Irvin doesn't take kindly to anyone smearing the name of The U.
"I called him a snake and rapist because think about it this way...he's snaking people, but you are a rapist," Irvin said. "How do you walk into someone's home -- forget football. Forget the University of Miami. I don't care about it.
"How do you walk into someone's home and sit and eat dinner with them? Watch and look at their kids? Look at all the things in their home that they worked hard over the years to gather and then you take a check and then you go and blow away all of their savings? Man it doesn't get any lower than this. It doesn't get any lower than this. You sit with people and you not only take money from these people and you go here and you rape these kids of their future."
Irvin said he never met Shapiro, but the Dallas Cowboys Hall of Famer said he would have given into temptation if he was showered with gifts.
"I said this too though and I'll be honest with you, I would have fell to those aphrodisiacs that he was throwing around," Irvin said. "I would have fallen into that. I would fall into it. Listen I wasn't able to handle at 19,18, 20. I wasn't even able to handle it at 30. Thirty-five? I just got here at forty-five! I just got here. If you would have offered me boats, women, and my hands are up in the air."
This is why I miss Irvin on ESPN's Sunday NFL Countdown.
Check out the interview with Irvin in its entirety. It's worth it.
Email dave.miller@nationalfootballpost.com or follow me on Twitter at Miller_Dave