August 13, 2011 -
Barry Dorey
Is a 16-team SEC on the horizon?
All hell seems to be breaking loose on the college football landscape as we get closer and closer to having Superconferences rule the land.
Texas A&M's arrival in the SEC now looks inevitable as the school's Board of Regents moved up its meeting to Monday afternoon to discuss "conference alignment," according to the Houston Chronicle, leading many to believe that a conference switch is on the horizon. An A&M official told the newspaper on Friday night that the Aggies hope to join their new league in 2012.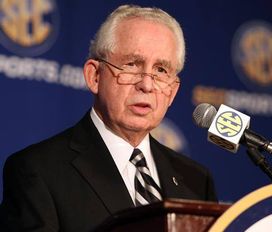 Mike Slive could soon be residing over an expanded SEC.
Early Saturday, ESPN's Doug Gottlieb reported that A&M will likely be joined by Clemson, Florida State and Missouri in changing conference affiliation to the SEC. However, as Chip Brown of Orangebloods.com writes, an administrator at a Big 12 school says that Missouri has denied to other members of the conference that it has talked to the SEC. Further, Brown notes that PowerMizzou.com reports that Mizzou AD Mike Alden said the Tigers have not had any discussions with the SEC. Could the Tigers be making a behind-the-scenes play while denying it to their fellow league members?
At this point, anything is possible.
According to Brown's report, SEC presidents are meeting this morning to discuss expansion. There is also reportedly a conference call set between Big 12 commissioner Dan Beebe and league athletic directors this afternoon to discuss A&M's departure and to discuss what steps the Big 12 should take moving forward. Will the Big 12 whittle to nine and remain with Texas and Oklahoma carrying the banner, or will league officials make a play for a program such as Louisville, BYU or Houston?
While the SEC could opt to find one other university to join A&M and expand to 14 teams, moving to 16 could be the more likely scenario. As he mentioned at SEC Media Days last month, commissioner Mike Slive could get to 16 teams "in 15 minutes."
As I mentioned in my NFP On Campus piece this morning, Clemson and Missouri are viable options for Slive. FSU absolutely is, as well. I just didn't think the 'Noles would be in play because of Florida's presence in the SEC.
We'll, of course, see how this plays out. But what's certain is that nothing is certain in today's altering landscape.
Email dave.miller@nationalfootballpost.com or follow me on Twitter at Miller_Dave