October 25, 2010 -
Dave Miller
Is a Brock Lesnar return to WWE in the works?
I'm not as big of a pro wrestling fan as I used to be since the demise of WCW. But I still keep up with the happenings in WWE by tuning into Raw during lulls in Monday Night Football games, checking out SmackDown before heading out for the evening on Fridays and listening to the Don Tony and Kevin Castle Show online — one of the best podcasts on the Internet today.
While I will always yearn for the days of the territories, the NWA and the heyday of the WWF, I know that era is not coming back. But I would be content with the WWE just returning to its ways of the early-to-mid 2000's, when wrestling was still must-see TV.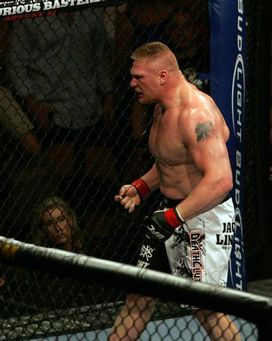 ICONBrock Lesnar lost the UFC Heavyweight Championship Saturday night.
Now I'm not a big UFC guy, but while trying to find a seat at a local bar Saturday night in Chicago I discovered that former WWE superstar Brock Lesnar was in action. I promptly left the bar because it wasn't exactly the environment I wanted to enjoy on a Saturday night, but I found out Sunday morning that Lesnar lost the UFC Heavyweight Championship — in quick fashion.
I know it was just one fight, but I started thinking of how great it would be if Lesnar came back to WWE. The fed could use a star like him more than ever these days, and he has a ready-made storyline he could fit right into if he was revealed as the force behind the Nexus. He could get the entire group even more over than it already is, and he can start a long feud with John Cena, which could culminate in a showdown at the next WrestleMania.
Sounds crazy? Of course, because of the way he left WWE (the company basically made him a star and he left without the fed getting much return on the investment). He left in 2004 and cited the travel and family reasons for his departure.
But then I came across this on Sunday night, from PWInsider.com.
Now, you have to take everything you read from a wrestling website with a grain of salt. But if WWE really made an offer to Lesnar to return for one night at WrestleMania 27, that would be big — but only with some good build-up to the bout.
So I researched this story further, and the floodgates seemed to open with each click of the mouse.
WWE superstar The Undertaker was in attendance for UFC 121 Saturday night, as he is a big fan of MMA. And 'Taker just so happened to have a staredown with Lesnar, which certainly must have made wrestling fans very excited.
As 'Taker was in the middle of an interview after the fight, Lesnar passed by and 'Taker asked, "You wanna do it?" The two had a brief staredown before Lesnar continued on his way.
Could "You wanna do it?" be interpreted as a challenge for a match at WrestleMania 27 in April? They've had some classic battles in the past, after all.
Multiple reports are flooding the 'Net that WWE has made an offer to Lesnar. Again, these reports are similar to rumors of The Rock making a return, which will never happen, so we have to be careful. But this would be big business for WWE. And if the company wants some retribution for him walking away from the business, jobbing out to The Undertaker and having the Dead Man's streak at Mania remain intact would be just that. Will Lesnar job for a big payday?
Vince McMahon paid a reported $3 million to Mike Tyson in 1998 to be a special enforcer at WrestleMania 14 for a match between Steve Austin and Shawn Michaels, so you have to figure Lesnar is worth at least that much.
But is Lesnar even interested in a return? UFC president Dana White didn't exactly dismiss the idea of a WWE return for Lesnar, but he didn't shed any new light, either.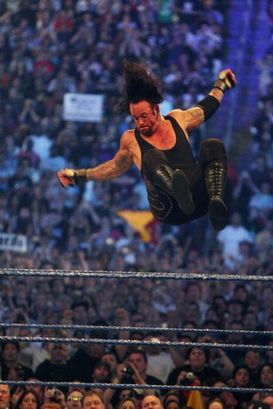 ICONThe Undertaker has never lost at a WrestleMania.
"First of all, I don't know if he is or isn't (returning to WWE)," White said after the fight. "I would find that hard to believe, but The Undertaker has been coming for a long time. He's a fan of mixed martial arts, and Brock is one of his guys. Those guys wrestled together. I went up and put the belt on Cain (Velasquez), talked to Brock and went right out, so I didn't hear any exchange. But if those guys were going back and forth, it's because they are friends."
"Brock and I butt heads on things. We just do. It is what it is, you know? I don't think it's something like, 'Oh, we're fighting and this thing is never going to work.' We tend to battle on things."
Is one of their battles centered around Lesnar wanting to do the match and White not keen on the idea? And was that legit heat between Lesnar and 'Taker or was it a "work?"
I don't know much about Cain Velasquez, but I'm sure Lesnar wants a rematch. If he gets it and comes up empty again, I hope Lesnar at least considers a return to the squared circle.
Even if he does regain the championship, though, there are many wrestling fans who feel that Lesnar owes it to them for one last match anyway.
Follow the Daily Jolt on Twitter: Daily_Jolt
The Daily Jolt is a section of the National Football Post that serves as a one-stop shop for all things football, sports, pop culture and everyday life.
The section's editor, Dave Miller, also writes the Against the Grain college football column for the NFP. When he isn't putting coaches on the hot seat, he can often be found daydreaming of being the future Mr. Katy Perry. You can follow him on Twitter at Miller_Dave.