September 27, 2010 -
Dave Miller
Is Cutler ready for his close-up on MNF?
The two wins were nice.
Any time you can come out of a National Football League game victorious, it's reason to celebrate.
And although it can be argued that the Chicago Bears should be sitting at 1-1 instead of 2-0 — see Calvin Johnson getting jobbed — the fact is that the Bears enter Monday night's showdown with Green Bay atop the NFC North with the Packers.
One of the main reasons for the team's fast start? Quarterback Jay Cutler, who is 44 of 64 passing for 649 yards and five touchdowns on the season.
The most important statistic, however? The former Bronco has tossed just one interception.
Last season, fair or not, the struggles of the entire team were defined by Cutler's propensity to throw to the other team. After expectations were sky-high for the Bears following his acquisition before last year's draft, Cutler struggled in Ron Turner's offense and often looked indecisive in the pocket.
He led the league in interceptions with 26, and the Bears finished 23rd in total offense while producing only 20.4 points a game.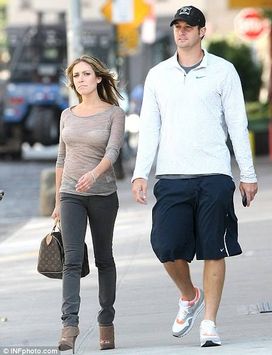 Kristin Cavallari and Jay Cutler enjoying their budding romance earlier this month.
The overwhelming sentiment heading into this season, however, was that Cutler's woes in his first season in Chicago had more to do with Turner's play-calling rather than Cutler himself.
The signal caller even made that argument to head coach Lovie Smith and general manager Jerry Angelo behind closed doors.
So the Bears brought in Mike Martz to play the role of miracle worker. The former St. Louis Rams head coach and veteran coordinator praised J-Cut all throughout the offseason, freely likening him to future Hall of Famer Kurt Warner and expressing confidence in the Bears' young receivers.
All the interceptions were forgotten.
And after two weeks of play, with wins over Detroit and Dallas, the Bears enter Monday night 2-0 and seemingly on the verge of contenders. And as a resident of Chicago I can tell you that the expectations are very high for the showdown against longtime rival Green Bay.
However, not to stop Bears fans from making their Super Bowl reservations already, can we really believe that Turner, who helped the Bears earn a berth in the league's showcase game in 2006, was really the main problem last season? While the defense was the driving force behind that '06 Bears team, Turner still helped Rex Grossman have a breakout season under center.
Well, make that a breakout three-quarters of a season. Bears fans certainly remember "Sexy Rexy's" disastrous December.
But if Grossman could look good under Turner — albeit for just that one year — wasn't Cutler good enough to make his supporting cast better last year (including the man calling the plays) like a real superstar is able to do in sports? Do we really believe that Turner handicapped the Bears that much and that Cutler will be a new quarterback under Martz?
That easily could be the case, as the two systems are vastly different. And it's quite possible that the Bears could rebound from their recent subpar seasons following their Super Bowl loss to the Colts. After all, Martz has the reputation for developing quarterbacks, as he helped transform Warner and Marc Bulger into Pro Bowlers, and he was a big reason why Jon Kitna put up back-to-back 4,000-yard seasons in Detroit.
He gets production out of this passers, and there's always something to learn from Martz.
But, while Monday night is only one game, the Bears can't be considered serious contenders under Cutler unless he can exorcise some past demons in primetime showdowns.
Fair or not, we all remember the Thursday night disaster last season in San Francisco.
He can't do anything about not having any playoff appearances under his belt — his 2010 story cannot be fully written up to this point. However, we'll find out tonight on a national stage if the Bears have any chance of succeeding in a make-or-break term for Smith and Angelo.
Soldier Field will be rocking, and we may even have a Kristin Cavallari appearance — much like when Paris Hilton showed up to watch Brian Urlacher on Monday night a few years back.
I'll refrain from the Tony Romo-Jessica Simpson comparisons and just let Mr. Cutler know that all eyes will be on him and the miracle worker.
Dave Miller is the college football writer for the National Football Post. When he isn't putting coaches on the hot seat, he can often be found daydreaming of being the future Mr. Katy Perry. You can follow him on Twitter at Miller_Dave.