May 22, 2012 -
Dave Miller
Is Flair headed back to WWE?
The Daily Jolt is a section of the National Football Post that serves as a one-stop shop for all things sports, pop culture and everyday life.
The section's editor, Dave Miller, also writes the College Football Report column for the NFP. When he isn't putting coaches on the hot seat, he can often be found reminiscing about the glory days of the National Wrestling Alliance (NWA). You can follow him on Twitter at Miller_Dave.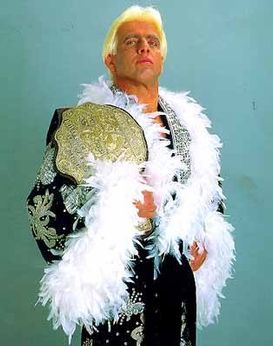 Ric Flair could be headed back to the WWE.
Legendary multiple-time World Heavyweight Champion Ric Flair has quit Impact Wrestling, according to a report.
The longtime grappler could now be on his way to signing a Legends deal with WWE as multiple reports recently surfaced that WWE had signed his daughter, Ashley, to a developmental contract. Flair could serve as one of the bigger-name personalities on the WWE's new TV network when he isn't busy promoting his energy drink and lottery endorsements.
While nothing is official, there's no question that WWE chairman Vince McMahon would be interested in bringing Flair back into the company.
Flair, of course, lost a retirement match to Shawn Michaels at WrestleMania in 2008 and has not competed in WWE since. He did, however, wrestle again during Hulk Hogan's Hulkamania Tour after his contract with WWE expired. He then landed in TNA, which became Impact Wrestling.
Seeing Flair on WWE TV again would be fantastic, but his in-ring days have been well behind him. Hopefully if he does return to WWE he will bring some credibility back to his illustrious career, which has taken a downward turn since the loss to Michaels.
Follow the Daily Jolt on Twitter: Daily_Jolt