September 22, 2010 -
Dave Miller
Is Florida ready to defend the Alabama rushing attack?
No matter how bad the Florida offense has looked at times this season, the Gators are certainly bringing it on the defensive side of the ball. The team is only giving up 14.3 points per game thus far — ranking 16th in the nation.
Coordinator Teryl Austin's unit was at it again last week against Tennessee when the Gators held SEC leading rusher Tauren Poole to just 23 yards on 10 carries in a 31-17 road win.
Why did Poole and the Tennessee offensive line struggle against the Gators front four?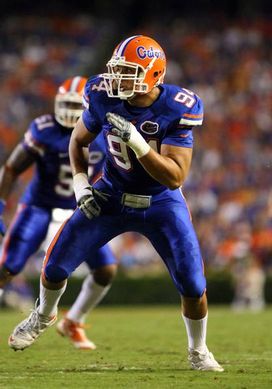 ICONFlorida DE Justin Trattou
Well, one reason is that there weren't just four defenders working against the Vols front. The Gators debuted their new five-linemen look, an aspect of the defense that opponents will now see the rest of the season. With three defensive tackles at the line of scrimmage, the middle is designed to become even more stout against the run.
Against Tennessee, senior defensive end Justin Trattou, redshirt junior Jaye Howard, redshirt sophomore Omar Hunter, redshirt senior Terron Sanders and senior Duke Lemmens were the featured five linemen.
Head coach Urban Meyer said Monday of the five-linemen set: "We're going to need that down the road."
It doesn't take a rocket scientist to realize what Meyer meant when he said "down the road."
With Alabama looming on Oct. 2, the Gators are intent on stopping the Crimson Tide's dynamic rushing duo of Heisman Trophy winner Mark Ingram and Trent Richardson. After all, 'Bama did most of its damage up the middle in the SEC championship game last year against UF when the team rushed for 272 yards.
First thing's first, however, as Derrick Locke — the new SEC leading rusher — and Kentucky will try to test the Gators new alignment this week. Locke is averaging 124 yards per game and gives the Wildcats a balanced attack, along with senior quarterback Mike Hartline and do-everything athlete Randall Cobb, under new head coach Joker Phillips.
The Gators (3-0, 1-0) are 23-0 against Kentucky (3-0, 0-0) since 1986.
Have a college football question? Feel free to send me an email at dave.miller@nationalfootballpost.com.
Follow me on Twitter at Miller_Dave
Click here to win cash today playing fantasy football with the NFP and FanDuel.