June 02, 2011 -
Dave Miller
Is Glennon ready to lead the Wolfpack?
Russell Wilson may still be the bigger name, but Mike Glennon is the one currently holding a starting job.
While Wilson is the talk of the college football world as he contemplates his next football stop, his former backup is entering the summer months preparing to lead N.C. State when fall camp opens in August.
And despite the success of Wilson in Raleigh, head coach Tom O'Brien doesn't believe Wolfpack fans should worry about the new starter under center.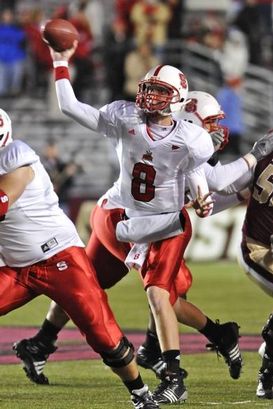 Mike Glennon has the difficult task of replacing three-year starter Russell Wilson at N.C. State.
O'Brien, who coached current NFL quarterbacks Matt Ryan and Matt Hasselbeck at Boston College, stated during the ACC coaches teleconference this spring that Glennon is "as talented as any quarterback I've had…He just needs the opportunity to play this fall, and he will get that opportunity."
Replacing a three-year starter in Wilson, who threw for 3,663 yards and 28 touchdowns in his best season yet in 2010, will certainly be a difficult task for the redshirt junior Glennon, who will be a full-time starter for the first time at N.C. State. But with the confidence of his head coach, he won't have to worry about anyone looking over his shoulder.
The starting job is his — no matter how many peaks and valleys.
The Wolfpack enjoyed a nine-win campaign in 2010, and O'Brien finally seems to have the program on solid ground. But Wilson was such a big factor in the team's success, often putting the offense on his back and becoming a one-man show. The 6-6 Glennon isn't the same type of dynamic player as Wilson, a former first-team All-ACC selection, although he is a better pure passer who can make every throw on the field. And the Wolfpack will have a group of senior receivers looking to step up and replace standouts Jarvis Williams, Owen Spencer and Darrell Davis.
Coordinator Dana Bible's unit may look a bit different this fall, but it should remain productive.
T.J. Graham caught 25 passes last season and will be expected to assume No. 1 receiver duty, but fellow seniors Jay Smith and Steven Howard will be in the mix, as well, after catching 10 and 12 passes last season, respectively. But keep an eye on Hakeem Flowers, who arrives on campus this summer. The top recruit passed up offers at UCLA, Oregon, Michigan, LSU and Notre Dame to play for the Wolfpack, and the 6-3, 195-pounder could make an impact early in Raleigh after recording 41 catches for 986 yards and 12 touchdowns in his senior season.
Glennon will also have a strong running game to help him adjust to his new starring role — something that Wilson didn't have entering last season.
Running back Mustafa Greene emerged as the team's top back and should build off of a strong 2010 season if he remains healthy. The team's depth in the backfield is better as well, so Glennon should be able to rely on the playmakers around him to keep the offense moving.
Glennon doesn't have much of a track record on the college gridiron, as he played in only three games last season, completing 69 percent of his throws, and has only attempted 52 career passes. But he has been lauded for his strong work ethic and ability to command the huddle. Keep in mind that he arrived in Raleigh as a high-profile recruit — a top-10 quarterback nationally in his recruiting class. And he is coming off of a strong spring season in which he endeared himself to the coaching staff and the players.
Now, he just has to prove it on the field this fall.
And if Glennon does endure some struggles, there's only one other person who will feel the heat besides the new starting QB — especially if Wilson shines in his new environment. And that's O'Brien, the one whose confidence is strongest in his new starter under center.
Email dave.miller@nationalfootballpost.com or follow me on Twitter at Miller_Dave