April 30, 2012 -
Dave Miller
Is Hundley close to landing the starting job at UCLA?
The Brett Hundley era may be ready to launch at UCLA.
Last week at the NFP I wrote about the quarterback situation in Westwood and the need for stability at the position after the team received inconsistent play under center when Rick Neuheisel was the head coach. The lackluster offense ultimately helped pave the way for Neuheisel's dismissal and the arrival of Jim L. Mora.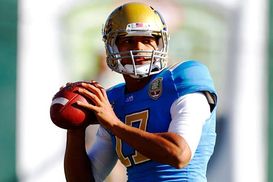 Brett Hundley may have the edge in the race for the starting QB job at UCLA.
Now, according to Chris Foster of the Los Angeles Times, Mora may be ready to hand the reins of the offense over to the rising sophomore.
Hundley ran with the first team almost exclusively this weekend as the new offensive staff had a chance to further view his decision-making abilities in a pressurized setting.
"We wanted to see him make all the small decisions you have to make in this offense," offensive coordinator Noel Mazzone said. "We put a lot of decisions on the quarterback at the snap of the ball."
In the scrimmage, Hundley went 7 of 11 through the air with a 28-yard touchdown pass to Shaquelle Evans, a transfer from Notre Dame. Hundley, who redshirted as a freshman last year, did well escaping pressure, and he had a five-yard scoring run when a play broke down.
It was the third consecutive strong practice for Hundley, with the staff being impressed with his leadership skills and the way he has directed the offense. The Bruins have two practices left before a final scrimmage at the Rose Bowl next Saturday.
Mora is in no hurry to name a starter, but Hundley will have a chance to make a lasting impression next weekend after being the more consistent performer of all the quarterbacks competing for the job, which include veterans Kevin Prince and Richard Brehaut.
Prince and Brehaut never could stay healthy and bring consistency to the position the last few years, and the pair threw late interceptions in a scrimmage last weekend. It did not come as a surprise that Prince was held out Saturday because of soreness in his throwing shoulder, an issue he has never been able to shake.
If Hundley is ultimately made the starter, mistakes will be made. But his ceiling is very high, and he needs live game action to improve at the position. Quite frankly, this offense may not grow with Prince or Brehaut taking snaps.
No matter who is the choice, Mora has stated that he will stick with whoever he chooses and ride with him throughout the season. Based on what we saw last season from Prince and Brehaut as well as the results this spring, Hundley should be that guy.
Email dave.miller@nationalfootballpost.com or follow me on Twitter at Miller_Dave