October 26, 2011 -
Dave Miller
Is joining the Big 12 in Notre Dame's best interest?
Not long after it was reported that West Virginia was headed to the Big 12 when Missouri officially joins the SEC, conference realignment talk took center stage once again.
And, not surprisingly, Notre Dame was one of the main characters.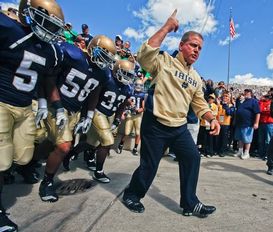 ICONCould Brian Kelly and the Irish be conference-bound in the near future?
The Fighting Irish are currently members of the Big East in basketball and other non-major-revenue sports, but that league is facing an uncertain future despite its desire to build a 12-member football league. Commissioner John Marinatto will essentially be forced to pick new members from the Mountain West and C-USA as he searches to replace Pittsburgh, Syracuse, TCU and likely West Virginia.
Certainly not a very appetizing menu of potential new Big East members.
Blair Kerkhoff of the Kansas City Star suggested that the Fighting Irish should consider leaving the Big East ship before it sinks, and he argues that becoming an associate member of the Big 12 would make sense for both parties.
The ACC has been suggested as a possible destination for the Irish, but the league would have to expand to 16 schoola. ACC commissioner John Swofford would jump at the chance to grab ND, but he isn't keen on the idea of partial membership, which the Irish would likely try to assume while maintaining football independence.
Such a scenario could work in the Big 12.
The new-look Big 12 could remain at 10 teams with West Virginia replacing Missouri, and it can benefit from non-conference football games with Notre Dame (attractive matchups for the Big 12 TV package). Oklahoma and Texas are already future opponents for the Irish, and ND could also gain access to the league's bowl contracts, such as the Cotton Bowl. Meanwhile, the Irish would get to keep its deal with NBC.
Further, the Big 12 has never publicly been opposed to Notre Dame, and Texas athletic director DeLoss Dodds has supported Notre Dame as a Big 12 candidate in the past.
I still maintain that at the end of the day, Big Ten commissioner Jim Delany will be able to land Notre Dame if the Irish ever feel the need to join a conference whether it be for all sports or every sport but football. It makes too much sense for both parties.
However, not much makes sense in the conference arms race occuring across the nation. So the Big 12, at this point, makes as much sense as any other option.
Email dave.miller@nationalfootballpost.com or follow me on Twitter at Miller_Dave