July 12, 2010 -
Dave Miller
Is Les Miles being treated unfairly?
It doesn't seem too long ago that LSU fans were rejoicing when head coach Les Miles decided to stay in Baton Rouge rather than bolting for Ann Arbor to replace Lloyd Carr at Michigan.
Less than three years later, Miles is seemingly being pushed out the door.
But that's SEC country, where skepticism and doubt creep in even after a 9-4 campaign. And where a certain aggressive style of coaching may be wearing thin on Tigers fans.
After athletic director Joe Alleva sent a letter to the LSU fan base at the end of the 2009 season, many wondered if he was set to take the program in another direction if another SEC championship and national title wasn't immediately on the horizon.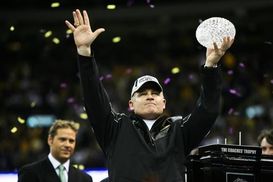 ICONLSU head coach Les Miles celebrates winning the BCS Championship over Ohio State to close out the 2007 season.
"This is a big year coming up for Les and the football program," Alleva told the Baton Rouge Advocate.
"I think Les is a wonderful person, a marvelous recruiter. He has the respect of the players, and he's put together a really good coaching staff. He's done a good job, and he realizes his job is to win. We've had conversations, and he understands that we're always striving for championships. We aren't going to win them every year, but we have to make sure we're in the hunt every season."
While he did not give his coach an ultimatum, Alleva didn't exactly heap high praise on his coaching abilities or past successes, either. All of this helps fuel speculation that Miles must get the Tigers back on top of the SEC.
Alleva noted that last season "was an improvement" over 2008 — and it was, with two of the Tigers' four losses coming to Alabama and Florida. The Capital One Bowl loss to Penn State, meanwhile, was anything but embarrassing particularly because the game was played in treacherous weather. Keep in mind, as well, that the loss to the Nittany Lions was Miles' first postseason defeat at LSU.
The major blemish on the Tigers' season, however, was the late-game meltdown against Ole Miss. Miles' risky coaching decisions — a staple of his career — didn't exactly go his way in the loss to the Rebels. No question that game wasn't one of his shining moments in terms of play-calling and time management.
But his usual aggressive approach also helped propel the Tigers to a national title. Has the shine from that 2007 season already worn off?
It doesn't seem logical to me that a national championship-winning coach with a 51-15 record at a school — and a 27-13 mark in the toughest conference in America — would be on any sort of a hot seat entering a season. But that's the overwhelming sentiment across the college football landscape.
The Tigers putting together back-to-back 5-7 seasons is one thing. But successive seasons of 8-5 and 9-4 following a national title shouldn't raise the panic level in the state of Louisiana.
Miles has won more games in the past five years than any other coach in school history over the same amount of time, and the Tigers boast one of the best records against ranked opponents (13-11) among SEC schools since Miles replaced Nick Saban in 2005.
But the embattled head coach, whose $3.751 million salary will come under heavy scrutiny with every Tigers mistake, occupies the hottest seat in the SEC.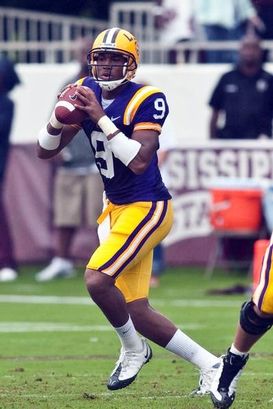 ICONQB Jordan Jefferson hopes to improve on an unsteady sophomore season.
Never mind that Miles has dealt with a ton of personnel moving onto the NFL and an unsteady quarterback situation since the dismissal of Ryan Perrilloux. And while the talent on the Tigers roster certainly is better than compiling a .500 mark in SEC play the last two seasons, sometimes certain teams just don't gel for one reason or another. It's happened to even the best of head coaches.
One can argue that quarterback Jordan Jefferson will have a major impact on Miles' future. Coming off of a mediocre sophomore season despite showing flashes of brilliance against Auburn, can he break out and become one of the more exciting SEC signal-callers in 2010? If he can at least partly resemble the quarterback who led the Tigers to a Chick-fil-A Bowl thrashing of Georgia Tech to close out 2008, he will help stabilize the offense.
And will a newfound emphasis on the run game translate into a more productive rushing attack? Stevan Ridley and Richard Murphy are the veteran returnees, but also keep an eye on two highly recruited backs who redshirted this past season — Michael Ford and Drayton Calhoun.
With standout defenders in cornerback Patrick Peterson, linebacker Kelvin Sheppard and defensive tackle Drake Nevis, along with an offense primed to improve, shouldn't we expect Miles to lead the Tigers to a bounce back season?
Because of his polarizing coaching philosophy, Tigers fans either love Miles or they would prefer to see him replace Rodriguez next season in Ann Arbor. There are those who appreciate his aggressive nature — like gambling on five fourth-downs in a single game against Florida — and there are those who will never embrace his style of coaching.
We've seen both camps come together and embrace their head coach once before, however. Winning will do that. The question is whether the two sides will ever be celebrating the Miles era one more time or if Alleva will eventually see enough and decide to enact change in Baton Rouge.
Follow me on Twitter at Miller_Dave
Ready for fantasy football? Click here to purchase the 2010 Total Access Pass/Draft Guide from the NFP.