February 25, 2012 -
Dave Miller
Is Oregon in hot water with the NCAA?
It's not an offseason in college football without news on the NCAA investigation front.
Oregon released to the media on Friday a "proposed findings of violations" from the NCAA, which states that the football program broke NCAA rules while using three recruiting scouting services and by having too many coaches involved in recruiting at any one time. The sport's governing body wants the Ducks to agree that "the athletic department failed to establish policies and procedures to monitor the football program's use of recruiting or scouting services" from 2008 to 2011.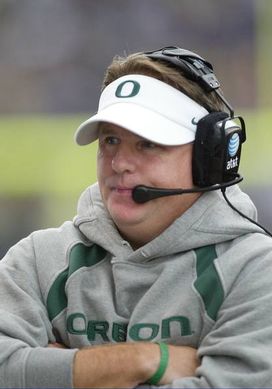 ICONWhat type of sanctions could loom for Chip Kelly and the Ducks?
So what does this mean for Chip Kelly and the Oregon athletic program?
Well, this wasn't a notice of allegations that the NCAA sends to a school after an investigation is complete. The current probe is still ongoing both internally and for the NCAA, so at this point it's just a guessing game as to what this release means in the long run. And according to The Oregonian, the school's general counsel Randy Geller said that until the internal inquiry concludes the school is not necessarily agreeing with the findings.
The fallout from this is that Oregon likely has to worry about potential sanctions, but they shouldn't be crippling. A "failure to monitor" charge is better than a "lack of institutional control" charge, though Ohio State lost a postseason this coming year after getting its own "failure to monitor" charge. It's also tough to predict because Oregon redacted some of the document's sections that were released. Is there more to the story that they aren't showing? We'll have to wait and find out, especially because there hasn't been a major infractions case involving NCAA bylaw 13.14.3, which deals with recruiting. There's not a lot of black and white in this case because NCAA investigators haven't dealt with street agents in football -- it's been a historical basketball issue.
Oregon seems to have been cooperating very well with the NCAA since the Willie Lyles mess started, so that's a positive for fans of the Ducks as they wonder what sanctions loom. This speculation will continue until the notice of allegations arrive, and then we'll see how Oregon responds to that formal document.
Email dave.miller@nationalfootballpost.com or follow me on Twitter at Miller_Dave