June 13, 2012 -
Dave Miller
Is Tebow-Mania primed to take over Starkville?
Cord Sandberg has heard the comparisons throughout his high school career.
The Manatee High School (Bradenton, FL) star quarterback has good size for the position and just so happens to be a left-handed passer. And he's a dual-threat from the state of Florida as well. Sound familiar?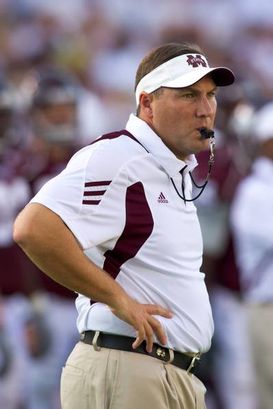 ICONDan Mullen has reeled in several recruits over the last couple of days, including a headline-grabbing QB.
The 6-2, 200-pound signal-caller has been likened to former Florida legend Tim Tebow because he has emerged to be one of the top dual-threat QBs in the nation. And he'll just so happen to be playing for one of Tebow's former offensive coordinators at Florida, as Sandberg committed to Mississippi State on Monday to play for Dan Mullen.
Sandberg was one of two prep players on Monday to commit to play in Starkville, as defensive end Chris Jones of Houston also made a pledge.
The good news continued to roll in on Tuesday when Mullen landed three more future Bulldogs: athlete Gabe Myles, running back Kailo Moore and wide receiver DeAndre Woods. Moore is the real star of the trio after having been pegged by some recruiting analysts as the state's best running back since current NFL star Jerious Norwood. The three players pushed the Bulldogs' current total number of commits in the Class of 2013 to ten (and eight in the last four days).
But Sandberg is the real gem of the group, as MSU may be getting a cornerstone player for the program.
One of the best dual-threat quarterbacks in the nation, he threw for 2,187 yards and 19 touchdowns while rushing for another 813 yards and 10 scores in a 2011 season that ended with a state championship. Because of his ability to chuck the football accurately deep down the field while also possessing the strength to run through defenders, it's easy to understand why comparisons to Tebow have been made throughout the state of Florida.
At this point, Mullen would be happy if Sandberg could give his team even a fraction of the productivity of the new New York Jet, who threw for over 9,000 yards and 88 touchdowns while rushing for nearly 3,000 more yards and another 57 scores on the ground during his illustrious career in Gainesville.
Sandberg, who also held scholarship offers from SEC powers Auburn and LSU as well as West Virginia, Clemson and Arizona, said he will likely focus on football in college. However, he could also bypass MSU altogether and play professional baseball. For now, though, Bulldog fans can be happy that they have a commitment from someone as accomplished as Sandberg.
While no one can predict how soon -- if ever -- Sandberg sees the field in Starkville, it's at least intriguing to ponder the possibilities of Mullen being able to utilize a player of his talent in the MSU offense.
Tyler Russell will be the starting quarterback this fall, so we'll see the Bulldogs throw the ball more than when they did with Chris Relf at QB. But if Sandberg is ready to contribute in 2013 or 2014, more run-oriented packages will likely be part of the equation. Keep in mind, though, that he does have a strong arm. That's an aspect that's often overlooked when a quarterback is given that dual-threat label.
As you'll see below in the highlights from his junior season, Sandberg's an accomplished rusher and passer.
The best coaches adapt to the strengths of their players. So if Sandberg sees the field in Starkville, expect a diverse playbook.
And expect Mullen to dip into his playbook from his days running the Gators offense with No. 15 at the helm.
Email dave.miller@nationalfootballpost.com or follow me on Twitter at Miller_Dave