May 12, 2012 -
Dave Miller
Is Temple in store for a letdown in the Big East?
There's no question that Temple football is trending in the right direction.
Under Al Golden, the Owls became a more disciplined football team and established a work ethic that Golden has tried to instill at Miami, where he landed after guiding Temple to 17 wins and a postseason berth in his final two seasons.
When Steve Addazio was hired to take over the program in Philadelphia, a lot of Temple fans were scratching their heads because Addazio was the subject of much ridicule in Gainesville due to Florida's offensive woes while he served as OC of the Gators.
But based on the continued struggles of Florida's offense and his outstanding 9-win debut season in 2011, Addazio is proving to be the right hire for the Philly school.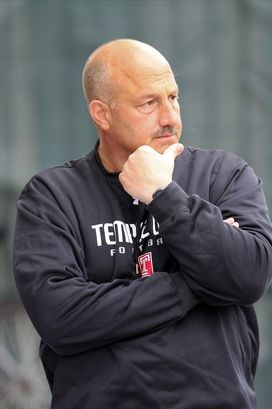 ICONSteve Addazio won 9 games in his first season at Temple in 2011.
So expectations are understandably high for Temple as the program prepares for its re-entry into the Big East, a move the league felt was necesssary because it would have had only seven football programs in the league this fall before more members join in 2013.
While it was a good move for Temple's wide-ranging athletic programs, should expectations for the football team be tempered heading into 2012 despite a strong 2011?
One of the more overlooked aspects of Temple's move to a BCS-level conference is whether the Owls have the depth needed to compete against stronger teams. No offense to the MAC, and all Big East jokes aside, but the competition is stronger in the BCS conference. So playing a tougher schedule will put overall depth into play. Despite an encouraging spring, the Owls have some issues across the offensive line and on defense, where youth will have to be served this fall.
The team lost four of five starters on the offensive line, with right tackle Martin Wallace being the lone returning starter. Addazio, however, is intrigued by the replacements up front. Projected starters include Zach Hooks at left tackle, Jeff Whittingham at left guard, Sean Boyle at center and Jaimen Newman at right guard.
The losses of star running back Bernard Pierce and several starters from a strong defense make the Owls susceptible to a down year, however. With a strong rushing attack and defense, a team could survive an average aerial attack. Without those two key cogs, the team will need an improved passing game.
Quarterback Chris Coyer and his receivers struggled in the team's spring game, although the signal-caller was impressive when he saw action late last season, including the bowl game against New Mexico. He is the unquestioned leader on this team despite the arrival of former Penn State signal-caller Kevin Newsome this summer. But can Coyer play consistently well for a full season?
Former quarterback recruit Jalen Fitzpatrick impressed this spring as he transitions to running back, but Matt Brown is the one player who has the best chance to step in for Pierce and give the Owls a No. 1 back. He has extensive playing experience the last three years and is coming off of a season in which he recorded 916 rushing yards, a 5.9 yards per carry average and six touchdowns. Kenny Harper will also be in the mix for carries.
Linebacker is the one area where the Owls could see a dropoff in play, as Stephen Johnson and Tahir Whitehead arguably led the best LB unit in the MAC. They combined for nearly 200 tackles last fall. Blaze Caponegro is the new leader of the group, with Ahkeem Smith now expected to step up his game. A good part of the 2011 team's identity was defense, so keeping that unit playing at a high level will be a tough task with some key new faces.
There's no question that Temple is in good hands with Addazio running the show, but Owl fans should keep in mind that adjustments will have to be made if this team wants to carry over its success from the last few years when the team enjoyed taking care of business in the MAC.
Email dave.miller@nationalfootballpost.com or follow me on Twitter at Miller_Dave