February 13, 2012 -
Dave Miller
Is Temple the final piece to the Big East puzzle?
The composition of the Big East remains in flux, and no one knows for sure exactly how the league will be comprised in the next few seasons.
Last week Memphis accepted the Big East's invite to become an all-sports member beginning in 2013, helping the conference evolve into a 12-team football league that can hold a championship game. Commissioner John Marinatto called Memphis a "perfect fit," and the Tigers will give the remodeled league another Western partner for impending new league members Boise State, San Diego State, Houston and Southern Methodist. Of course, Memphis isn't exactly in the Western region of the United States, but geography was thrown out the window in conference expansion talks long ago.
Navy football will also join the Big East, but that won't happen until 2015. And because Boise State and the other aforementioned programs aren't scheduled to join until 2013, Marinatto's league will be sitting at just seven members for the 2012 football season due to West Virginia's expected early departure for the Big 12. Of course, with the Mountaineers reportedly agreeing to a settlement with the Big East, many have speculated that Pittsburgh and Syracuse will want to leave for the ACC early, the idea being that the Mountaineers opened up a can of worms. Most importantly, Marinatto needs to find a way to get eight football members for this fall or else he's looking at the real possibility of Rutgers and Syracuse having to play each other twice this season, as CBSSports.com reported.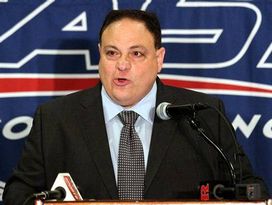 Big East commissioner John Marinatto is overseeing a drastic overhaul of his league.
The fully integrated Big East isn't scheduled to be in effect until 2015, when the league hopes to stage a conference football championship game. Although who knows if conference expansion isn't over for other leagues and programs such as Louisville, Rutgers and/or Connecticut jump ship.
But the real mess is on Marinatto's hands right now.
With West Virginia expected to get its early release, the school reportedly need to be able to convince a future Big East member to join in 2012 instead of 2013 so that the league could remain at eight football members this fall. The conference is scrambling to fill its football schedule for the next two years with West Virginia paying its way to exit.
Boise State is reportedly the top choice to enter the Big East a year early, but school president Bob Kustra publicly was against an early departure a few weeks ago. Boise State certainly could end up jumping from the Mountain West early, especially if its Olympic sports can compete in the WAC in 2012, but the Newark Star-Ledger reported it would cost Boise $13 million to $14 million to get out of the Mountain West this year.
The better alternative might be Temple, a former Big East member itself.
It's amazing that the Owls have managed to generate a buzz in conference expansion talks considering they were the laughingstock of the nation at one point for being kicked out of the Big East. But Al Golden did a fantastic job of rebuilding the Owls before leaving for Miami, and former Florida offensive coordinator Steve Addazio put together a marvelous first season in Philadelphia last fall.
Temple, currently a member of the MAC, likely would be part of a C-USA/Mountain West merger if it did not get an invite and ultimately jump to the Big East. School president Ann Weaver Hart and athletic director Bill Bradshaw met with C-USA and Mountain West officials Sunday in Dallas, according to Philly.com, but there's no question the Owls would prefer to land in a BCS conference even if automatic qualifiers aren't awarded in the next BCS cycle.
Of course, many feel that Villanova is against Temple joining the league because of the potential longterm impact on its own program, specifically its hoops program. In the Big East, Temple could emerge as the top athletic program in the Philadelphia area in time. And while football is the major money-making sport, the Big East does consider basketball a priority. And, as Louisville head basketball coach Rick Pitino will likely point out whenever he gets the chance, replacing Syracuse and Pittsburgh with teams such as Houston, SMU and Central Florida isn't exactly appealing for the Big East on the basketball side of things. Temple, meanwhile, maintains a great basketball tradition just like new Big East member Memphis.
And there's no question that Temple football is on the upswing. Just consider that its defensive coordinator, Chuck Heater, was linked to Clemson's DC vacancy earlier this offseason and that the Owls lost offensive coordinator Scott Loeffler to Auburn. The MAC is an underrated conference. But it's not the Big East -- no matter how subpar its product has been in the past.
Email dave.miller@nationalfootballpost.com or follow me on Twitter at Miller_Dave