January 01, 2011 -
Dave Miller
Is there a softer team in the nation than Michigan State?
The first thing Michigan State head coach Mark Dantonio should do when he steps to the podium during the Capital One Bowl's postgame press conference is issue an apology to anyone and everyone associated with the Spartans football program.
Because that performance today in Florida against Alabama was atrocious. It was embarassing, and it's a stinker that will define the 2010 season for the Spartans.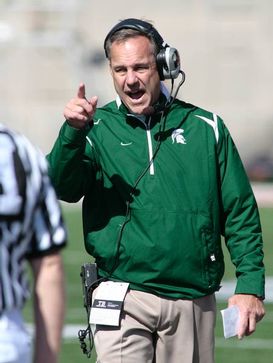 ICONMark Dantonio's Spartans were blown out by Alabama in the Capital One Bowl.
Eleven wins is a fantastic campaign, no question about it. But for anyone who follows college football, and for every fan, former player and alumni of MSU, the two losses this season overshadows all of the positives.
It's a shame, too, because Michigan State had some memorable moments this season. Dantonio dealt with health issues off the field, and it was very heartwarming to see him come back and look as strong as ever. He led a cohesive staff that made two of the gutsiest calls of the season with the "Little Giants" play against Notre Dame and "Mousetrap" trick against Northwestern. Like their head coach, the Spartans continually overcame adversity.
But then they had the debacle in Iowa City, where the pressure to remain undefeated and remain in the mix for the national championship game became too much. The Spartans didn't just lose, they were annihilated by a smarter and more physical football team. That couldn't happen again, right? The prevailing thought was that lesson was learned against the Hawkeyes.
But on New Year's Day in the Capital One Bowl against the Crimson Tide, Michigan State showed its true colors. I don't know whether the team was still smarting over not getting invited to the BCS party or not, but I do know that this game falls on the shoulders of the coaching staff for not having the players focused and prepared enough to deal with an SEC power. And it also falls on those very same players who quit when they faced tough times, just like they did against the Hawkeyes.
Many wondered if Alabama would be focused after suffering three losses and being shut out of the BCS party following its crushing loss to Auburn in the Iron Bowl. Some argued that the Tide would overlook the Spartans because they weren't able to have the chance to defend their national title on January 10.
Based on the bowl game they had to suffer through today, Spartans fans were reminded that neither Nick Saban nor his players know how to quit.
Email dave.miller@nationalfootballpost.com or follow me on Twitter at Miller_Dave