November 18, 2010 -
Dave Miller
Is there heat between Cutler and Marshall?
Former Broncos teammates Jay Cutler and Brandon Marshall squared off for the first time in new uniforms Thursday night in South Beach in one of the ugliest games of the 2010 season. Cutler's Bears beat Marshall's Dolphins 16-0 to temporarily lead the NFC North by a half-game over the Green Bay Packers.
The most exciting part of the game may have come when the two ex-teammates had a sideline exchange that drew Marshall a 15-yard penalty.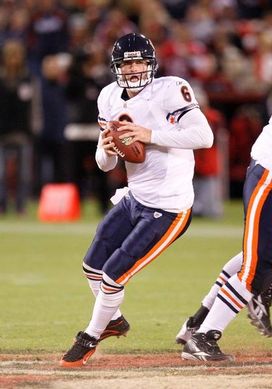 ICONJay Cutler met former teammate Brandon Marshall Thursday night in South Beach.
Early in the second quarter after picking up a first down and getting forced out of bounds, Marshall tossed the football at Cutler while the quarterback stood on the sideline. There appeared to be an exchange of words as the receiver made his way back onto the field. The flag was thrown and the Fins were sent back 15 yards.
Below is video of Marshall throwing the ball at Cutler.
Marshall later reinjured his right hamstring, sidelining him for the remainder of the contest. Even if he was on the field, though, it likely wouldn't have mattered with the Bears in sync defensively all night.
The Dolphins, who entered two games out of first place and attempting to stay in the thick of the wild card race, look like a mess right now after being forced to play their third-string quarterback and getting nothing going on offense.
In the postgame news conference, the Bears signal caller cited Marshall's competitiveness as the likely reason for the exchange. He also noted that he was "getting after [Marshall] before the game."
"He was just fired up," Cutler said.
We always knew Marshall had the talent. And we always knew he was a loose cannon.
As for Cutler, is a postgame cocktail with Kristin Cavallari on the horizon?
Email dave.miller@nationalfootballpost.com or follow me on Twitter at Miller_Dave