May 11, 2013 -
Dave Miller
It shouldn't all be on Thomas at Virginia Tech
When Virginia Tech concluded spring practice this past April, fans were still concerned about the state of the team's offense after quarterback Logan Thomas continued to be plagued by turnovers in the spring game.
While there's no question that Thomas needs to play more to his 2011 form than last year's if the Hokies plan on competing for an ACC title, this offense needs all-around improvement — not just from the dual-threat signal-caller.
Specifically, Frank Beamer's squad needs to get back to having a productive ground attack.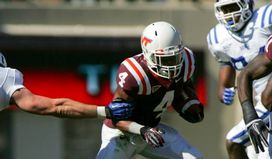 US PRESSWIRECan J.C. Coleman emerge as the No. 1 back in Blacksburg?
Last fall no player really emerged as a top every-down back capable of being the physical runner that fans have been accustomed to watching in Blacksburg. The Hokies were not able to be their usual run-first, smashmouth self because the ground game was not at all consistent. The reshuffled O-Line did not gel as quickly as the staff had wanted, and Thomas often tried to be a one-man show when plays broke down. It too often became a one-dimensional offense that was plagued by turnovers.
If Virginia Tech can get its ground game going, however, Thomas will be put in more manageable third-down situations and thus become a more consistent passer because of it.
Entering spring the Hokies wanted to get away from their four-running back approach that they were forced to employ last year and see if any one player stood out. Sophomore J.C. Coleman, redshirt freshman Trey Edmunds and sophomore Michael Holmes are now likely positioned to fight for carries in the season opener in the Georgia Dome against Alabama.
Despite concerns about his size, Coleman is the logical choice to get the most carries following his finish to last season, a campaign in which he averaged 4.5 yards per carry and was a solid pass-catcher out of the backfield. But Holmes impressed because he seemed to be a more confident runner this spring. However, his status is up in the air following his arrest on wounding/assault charges last month. He is indefinitely suspended and will be away from the team during summer workouts. Meanwhile, Edmunds has an intriguing combination of size and speed. In terms of ceiling alone, Edmunds could eventually find himself as the No. 1 back in Scot Loeffler's offense because of his strength and explosive ability to create a big play.
Even with Loeffler working hard to get Thomas back to his 2011 form after a season in which he barely completed 50 percent of his passes and threw 16 interceptions, this will likely be a run-heavy offense. While it's not time to panic yet if you're a Hokie fan, the aforementioned running back trio combined for only 34 yards on 17 carries in the spring game. And it appeared that the offensive line struggled to create consistent holes, which was a problem last year. Specifically, the team struggled in short-yardage situations, an area of concern throughout last fall. So even if the tailback situation sorts itself out, can this O-Line get stabilized and create enough holes while protecting Thomas when he drops back to pass?
While the spring game left a lot to be desired for the Hokies offensively, a new coordinator and fresh set of eyes eventually might help out a ground attack that has been the Hokies' calling card since Beamer's arrival. But there's no question that a lot of pressure will fall on the five players up front. Loeffler has repeatedly maintained that running the football is essential to having success, so while all eyes will be on Thomas in preseason camp it is important to realize that he can't be a one-man show in 2013.
We saw what happened last year when Thomas tried to do everything. The results were ugly.