August 15, 2011 -
Dave Miller
It's a great thing that USC's defense is ahead of its offense
Just as it was this past spring — despite missing key contributors to injury — USC's defense is ahead of its offense.
[We're] a long ways away [offensively]," head coach Lane Kiffin said after the team scrimmaged at the Coliseum on Sunday, according to Eric Patten of The Orange Country Register.
"We wouldn't have played very well today on offense if that was a real game, so we've got a long ways to go, a lot of work to do."
It's often the case for any football team that its offense lags behind its counterpart early in camp, just as it is for pitchers to be ahead of hitters in baseball's spring training. But the spotlight is always brighter when it comes to the Trojans.
However, after almost two weeks of fall camp, 'SC fans shouldn't be too concerned.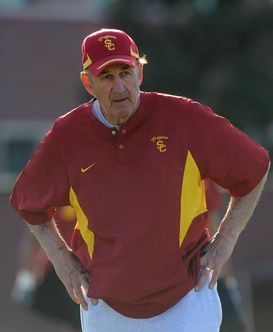 ICONMonte Kiffin hopes his defense can rebound from a disastrous 2010 campaign.
When respected defensive guru Monte Kiffin joined his son Lane in Los Angeles last offseason, it was expected that the Trojans would be able to rely on their defense as their offense took time to gel. But somewhere between Knoxville and the 'SC campus, the Tampa 2 stopped working. And Trojan defenders stopped tackling.
This past spring, the situation didn't get much better as the injury bug hit the Trojans hard across the entire unit.
Defensive linemen Armond Armstead, Christian Tupou and Wes Horton missed all or significant time in camp, and linebackers Chris Galippo, Devon Kennard, Shane Horton and Ross Cumming were shelved as well. The secondary was also banged-up, with Torin Harris and T.J. Bryant sidelined after recovering from shoulder surgeries.
The only blessing for Kiffin is that he was able to give plenty of reps to his young defenders as the team looked to build its depth with scholarship reductions on the horizon.
Looking ahead to this season, the front four is expected to be much improved, and it's a unit that must play much more consistent and physical than it did last season. It's also a big year for the secondary as 'SC adjusts to the prolific passing attacks of Pac-12 offenses. Lane Kiffin said this past spring that the Trojans faced more than 600 plays in 2010 against three or four wide-receiver sets.
With the defense expected to be better in 2011, quarterback Matt Barkley will be leaned upon to shore up an offense that was sluggish this past spring with the team unable to field a full complement of receivers. Thus far, the unit has sputtered.
In the scrimmage Sunday, the Trojans ran 140 plays and scored five touchdowns. But they had to settle for just two field goals in the first half as the first-team defense controlled the line of scrimmage.
But what did we expect from an offense missing receivers Robert Woods and Brice Butler, who sat out with ankle and knee injuries, respectively? In addition, fellow receivers Brandon Carswell (quads) and Robbie Boyer (back) were injured during play Sunday. Seizing the opportunity on the day was freshman Marqise Lee, who received playing time with the first-team offense. His speed and ability to make plays after the catch were noteworthy.
But, again, it was the defense that was most impressive — a big step in the right direction for a talented squad looking to win the Pac-12 South in its final year of postseason banishment.
Along with a consistent pass rush, the improved line held running backs Curtis McNeal, Dillon Baxter and D.J. Morgan to fewer than 100 combined yards in the first half.
"I thought the defense played well," Kiffin said. "They started out slow, but after that did some good things and caused some issues with the first-team pass rush with Nick Perry and Wes Horton."
For 'SC fans who endured such porous defensive showings last season, that's music to their ears.
Email dave.miller@nationalfootballpost.com or follow me on Twitter at Miller_Dave