March 08, 2011 -
Dave Miller
It's still early, but Tressel's never been in hotter water
There was outrage across the college football world when it was announced that Terrelle Pryor and four other Ohio State players were suspended for the first five games of the 2011 season while being allowed to play in the Sugar Bowl against Arkansas this past season.
If the Buckeyes were found to have violated NCAA rules, why give them any sort of a pass at all? Was Pryor — the team's star player and a drawing card — allowed to play against the Razorbacks because he was the Terrelle Pryor?
Whatever the reason for the timing of those suspensions, it's safe to say that if Monday night's Yahoo! Sports report is true — that head coach Jim Tressel knew as early as April 2010 that Buckeye players were in the business of exchanging memorabilia for cash — the outcome this time around is going to be much harsher for the program.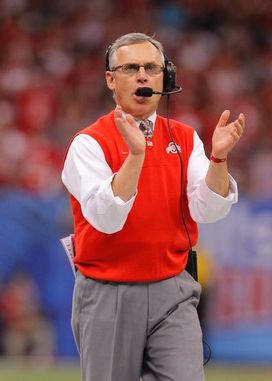 ICONJim Tressel has been head coach at Ohio State for the last 10 seasons.
Specifically, the Vest will no longer be walking the sidelines on Saturday afternoons.
Of course, at this point, it's easy to envision such a doomsday scenario. Ohio State has yet to respond to the report, which seems to be based on an anonymous source. And it still must be proved that Tressel knew about the scheme more than eight months before the university claimed it learned about it from law enforcement officials. But a failure to disclose possible rules violations is, plain and simply, an NCAA violation. Just ask USC.
The real issue here is whether Tressel lied to the NCAA when he talked to investigators last December prior to the suspensions of the Buckeye players. And, of course, the presumption here is that the head coach had to have a conversation with investigators. If Tressel intimated in any way that he had no prior knowledge of these transactions and it is found that he indeed was sitting on information, the unethical conduct card can be played. And Tressel can be given the Bruce Pearl treatment — or worse.
The Yahoo! Sports report states that there's a clause in the 58-year-old Tressel's contract, which states that failure to promptly report "any violations" could lead to "termination by Ohio State for cause."
It's early, of course, and we first need to hear a response from The Ohio State University. The school then would need to self-report the information to the NCAA, an investigation would have to begin and many months likely would pass before any findings are revealed and decisions are made. That's just the nature of the beast.
The school could also take action early on and, if the administration finds that Tressel was not entirely truthful, it can suspend its head coach.
Not likely, especially when you're dealing with a leader who is looked upon as being pristine.
But Tressel's eventual ouster after a thorough investigation? It's premature to speculate, but based on the report from Monday night, it's never been more possible than it is now.
Email dave.miller@nationalfootballpost.com or follow me on Twitter at Miller_Dave