June 09, 2011 -
Dave Miller
It's time for Penn State's Bolden to decide on future
Penn State quarterback Rob Bolden really knows how to hold a grudge.
That would seem to be the only logical explanation for stringing along the Nittany Lions offensive staff as he has yet to fully re-commit to the program, telling the Pittsburgh Post-Gazette late last week that he still has not decided whether he will remain in State College or pursue an opportunity with another program.
For those who are confused as to why Bolden is not 100 percent committed to Penn State, his delayed decision on the matter seems to be due to his ongoing competition for the starting job under center with redshirt junior Matt McGloin. Although Bolden won the job in Happy Valley as a true freshman and started the first seven games of the 2010 season, McGloin took over starting duties after Bolden suffered a concussion October 23 against Minnesota. While Bolden received one more start when he returned to health, McGloin started five of the final six contests, including the team's Outback Bowl game against Florida.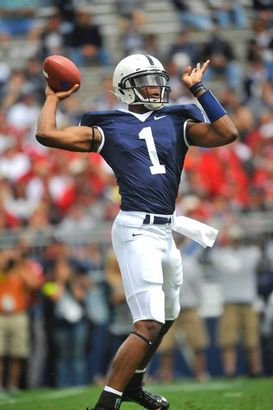 ICONRob Bolden lost his starting job last season to Matt McGloin.
Shortly after the season, Bolden asked head coach Joe Paterno to release him from his scholarship. Of course, Joe Pa did not comply. And who can blame him? After all, the 6-4, 208-pounder showed flashes of his talented skill set throughout an inconsistent debut campaign in which he completed 58 percent of his passes with five touchdowns and seven interceptions. A true freshman doesn't start under Paterno in Happy Valley unless the veteran coach has confidence in the player.
But that confidence was apparently tested late in the year, as highlighted in the bowl loss to the Gators.
Against UF in Urban Meyer's swan song, McGloin threw five interceptions while Bolden stood on the sideline. Paterno admitted shortly after the season that he should have played Bolden against the Gators. The lack of playing time in the postseason could not have sat well with the young starter, as he and his father met January 4 with Paterno and his son, Jay, the team's quarterbacks coach, just a few days after the season ended to request release papers.
Because he felt that his young signal-caller was making too quick of a decision, Paterno was able to persuade Bolden to participate in spring practice. Before drills commenced in March, the former starter confirmed to FightOnState.com that he wasn't certain about his future.
"There is no definite answer on if I'm gonna stay or if I'm gonna leave," Bolden said in late February. "We're just gonna wait it out, see what happens in the spring and go from there."
It seemed at the time that Bolden wanted to see how the reps were going to be split in spring and how he fared in the battle with McGloin and redshirt freshman Paul Jones before taking any next steps.
But with no clear winner in the derby, and the same combatants (Jones doesn't appear on track to win the job, however) slated to compete for the starting job in August, Bolden appears to still be weighing his options — and it's not exactly fair to the offensive side of the ball.
It's one thing to argue that Bolden has the right to take his time on the matter. After all, coaches come and go at major programs, leaving the kids they recruited essentially high and dry.
But this is Penn State. And Paterno isn't going anywhere.
While it may be in the best interest of the team to name a starter now, the fact is that the race is too close to call. And quarterback battles are nothing new in major college football. Just ask Alabama, Auburn and a host of other major programs.
While Bolden has a right to be frustrated and hold a desire of knowing where he sits on the depth chart, he hasn't really earned the right to remain indecisive. And because Bolden and McGloin bring different assets to the offense, it would be nice for the offensive staff to have an idea of who will and will not be in camp in August.
Bolden's best chance to start in the fall? A commitment to the program that gave him a chance to start the opener as a true freshman.
Paterno has turned to Bolden once before after a strong fall camp last year, and odds are he'll do it again — if he's still in Happy Valley in August.
Email dave.miller@nationalfootballpost.com or follow me on Twitter at Miller_Dave