December 14, 2012 -
Dave Miller
Jaworski: 'I'm not a Saban guy, because I don't like liars'
As is the case with Chip Kelly, Nick Saban's name often surfaces when the conversation centers on college head coaches jumping to the NFL.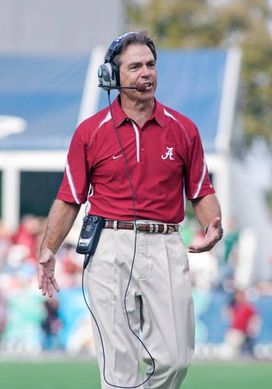 US PRESSWIRENick Saban's name annually gets linked to NFL jobs.
Throughout the last few weeks, Saban has been linked to the Cleveland Browns, where some in NFL circles believe that the Alabama head coach could be reunited with Mike Lombardi if the NFL Network analyst makes a return to an NFL front office.
One person who does not want to see Saban return to the pro ranks, where he had a two-year run with the Miami Dolphins, is former Philadelphia Eagles quarterback and current ESPN analyst Ron Jaworski. Jaws told 97.5 The Fan in Philly that he wouldn't be happy about Saban making an NFL comeback.
"I'm not a Saban guy, because I don't like liars, and I think he lied," said Jaworski, via al.com. "I think he lied to the Miami Dolphins, and to the fans of Miami, and he left. And it's pretty simple, I think integrity is very important, if you don't have integrity, I don't know how you can be successful. Yeah, I know he's great at Alabama, and he'll probably win another national championship, but I just don't like people that don't have integrity, so it's pretty easy for me to say I don't want Nick Saban in town."
Of course, the Philadelphia Eagles could be looking for a new head coach after this season with Andy Reid firmly on the hot seat.
I've maintained that Saban isn't going anywhere, as he'll be 62 years old next October and he will never have as good of a situation as he currently has in Tuscaloosa. While nearly every head coach is looking for that next big challenge, it's not likely that Saban is leaving Alabama any time soon.
Email dave.miller@nationalfootballpost.com or follow me on Twitter at Miller_Dave