August 16, 2012 -
Dave Miller
'Johnny Football' faces a tough challenge in the SEC
Texas A&M has its replacement for NFL first-round draft pick Ryan Tannehill.
And it's not Jameill Showers as many had expected.
The Aggies announced on Wednesday that head coach Kevin Sumlin has named redshirt freshman Johnny Manziel as the team's starting quarterback for the August 30 opener against Louisiana Tech in Shreveport, La.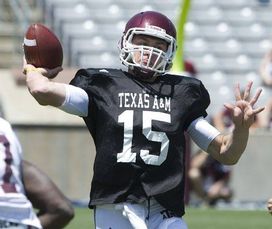 Johnny Manziel has won the starting QB job in College Station.
"Johnny has performed the best at this stage and we will proceed until the season opener with him getting the first-team reps," Sumlin said in a press release. "My policy is simple, really: The best player plays. Competition is a great thing and we need more competition at all of our positions. All of our quarterbacks have competed well, and I expect them to continue to push Johnny."
Whether it was his strong performance in last Saturday's scrimmage or his ability to quickly release the football, Manziel was able to win the job over the third-year sophomore Showers, who was Tannehill's backup in 2011, as well as redshirt sophomore Matt Joeckel and true freshman Matt Davis.
In the aforementioned scrimmage, Manziel completed 18-of-22 passes for 218 yards and three touchdowns while rushing six times for 24 yards and another score, leading the offense to touchdowns on four of six drives. He showcased his ability to keep plays alive with his feet and make good throws on the move, and his quick feet will play well in the SEC, where he will certainly face pressure from some of the nation's nastiest defensive lines.
The question now becomes whether the 6-1, 200-pound Manziel is ready to hold up physically for an entire season while facing a daunting schedule with A&M now in the rugged SEC.
Statistically, Manziel should be able to put up numbers this fall because all of Sumlin's quarterbacks have been able to do so in the past no matter where Sumlin was coaching. And Manziel has the prep credentials after starring at Kerrville Tivy High School in Texas, where he was a Parade All-American while earning AP high school player of the year honors in 2010. That season he completed 65.7 percent of his passes for 3,609 yards, 45 touchdowns and just five interceptions. He also rushed 170 times for 1,674 yards and 30 scores.
Highlights courtesy of 247SportsStudio
Maturity-wise, however, does Manziel have what it takes to lead an offense for 12 weeks after an offseason arrest following his involvement in a fight and subsequently providing a fake ID? While I've heard varying details of how that event transpired, you don't see many winning QBs getting involved in off-the-field altercations. Manziel needs to chalk it up as a learning experience, and Sumlin certainly hopes that will be the case. It's not easy being a quarterback in the SEC, and it takes a certain moxie. Sumlin believes "Johnny Football" has it.
How long can Manziel hold onto the starting job under Sumlin and offensive coordinator Kliff Kingsbury?
While the offensive staff certainly would pull the plug if a quarterback is not being efficient and prolific, Sumlin prefers to have one signal-caller leading this offense. This scheme is very much predicated on rhythm, so playing more than one QB at a time is not conducive to productivity. However, Sumlin won't hesitate to make a move to Showers if life in the SEC is too overwhelming for Manziel.
Sumlin obviously feels that Manziel is the right QB for this offense and this team, so he wouldn't have made the bold move unless he felt Manziel had the right ingredients to be productive. Now all eyes will be on the tricky road opener against a Sonny Dykes squad that could be a BCS buster this fall.
Email dave.miller@nationalfootballpost.com or follow me on Twitter at Miller_Dave