January 30, 2014 -
Dave Miller
Jones ready to bring in a loaded class at Tennessee
Subscribe to the "Against the Grain with Dave Miller" podcast in iTunes
Tennessee fans that have recently become accustomed to being home for the holidays can take solace in the stellar recruiting job being done by second-year Vols head coach Butch Jones and his staff.
Despite a 5-7 campaign in 2013, Jones recorded a signature win over South Carolina, was able to get his players to buy into the type of program he wants to run and continued to put together what is shaping up to be one of the best 2014 classes in the country.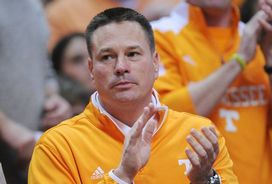 Butch Jones is putting together a great crop of talent in the 2014 class.
When National Signing Day arrives next Wednesday, the Vols are positioned to bring in a class that will rank in the Top 10 nationally — and likely closer to Top 5 depending on the scouting service.
The class features a nice blend of offensive and defensive talent, led by the in-state duo of running back Jalen Hurd and safety Todd Kelly, Jr., who pledged to the Vols last March. The 6-4, 222-pound Hurd, who had also strongly pondered heading to Ohio State and Florida before deciding to go to Rocky Top, broke the state of Tennessee's single-season record for rushing yards in 2012. Both Hurd and Kelly are two of the best nationally at their positions.
Those standout commitments helped put Jones and the Vols on the map even before a lot of other programs were starting spring practice last year. And the momentum continued to build.
Joining Hurd on the offensive side of the ball are LaVon Pearson, one of the top JUCO receivers in the entire country, as well as Josh Malone, a fellow receiver who is one of the better players at the position in this class. Malone was being sought by Florida State, Clemson and Georgia. Athlete Vic Wharton III has a chance to step in and contribute at receiver, but his biggest assets are his speed and return ability. If he doesn't pan out on offense, he could develop into a nice safety as well as a very dangerous special teams ace.
Defensively, the Vols have an impressive haul as well in addition to Kelly. Fellow safety Cortez McDowell is a well-rounded DB who will be joined by cornerback D'Andre Payne. Payne isn't the biggest defender, but he could develop into a shutdown corner because of his instincts and athleticism. Florida linebacker Dillon Bates, meanwhile, is a legacy commit. His hard-hitting father, Bill, played for Tennessee in the '80s. He'll be joined by run-stuffing inside linebacker Gavin Bryant from Alabama. And Joe Henderson, who had offers from Michigan State and Ole Miss before choosing the Vols, is a weakside defensive end from Ohio who could move to outside linebacker. He is raw and needs to add weight, but there's a chance he could emerge as a situational pass rusher early in his career.
One player who remains a bit under the radar is Orlando Brown Jr., who is the son of another former NFL player. The 6-8, 348-pound offensive tackle is considered a very raw prospect with a very high ceiling. The Georgia product had scholarship offers from BCS-level schools such as Alabama, Florida State, Michigan and USC. "Baby Zeus" is a very intriguing talent but has struggled to keep his weight down, which has led to questions of whether his footwork and quickness would be good enough at the SEC level. The projected right tackle once weighed 450 pounds in eighth grade. But the son of the late NFL O-Lineman by the same name has coaches drooling over the potential that he possesses. His work ethic, however, will be scrutinized until he gets his body into top shape for the rigors of the SEC.
Perhaps the most important aspect of this current class, besides the immense talent and depth, is that Jones has shown that he can get prospects that are scattered across the country. He currently has commitments from Virginia, Georgia, Florida, Alabama, Texas, North Carolina, Illinois, Maryland and Ohio. He also was expected to have as many as 14 early enrollees in this class.
But the work is not yet done.
Jones would love to close strong and further strengthen the class in the final days before NSD. But even if the Vols fall short in that pursuit, the future is extremely bright in Knoxville as Jones enters his second season with the program. Throughout his career he has proven to be a very good head coach. Now he is showing that he can recruit with the big boys on the main stage as well.
Dave Miller, the college football editor and writer for the National Football Post, is on Twitter @Miller_Dave.