December 17, 2010 -
Dave Miller
Julianne Hough video: 'Is That So Wrong'
Horrible news for Daily Jolt favorite Julianne Hough, as the video for her latest single, 'Is That So Wrong,' has reportedly been deemed too steamy for Country Music Television (CMT). The video features the former 'Dancing With the Stars' beauty playfully meandering through her apartment wearing very little and, frankly, just being her sexy self.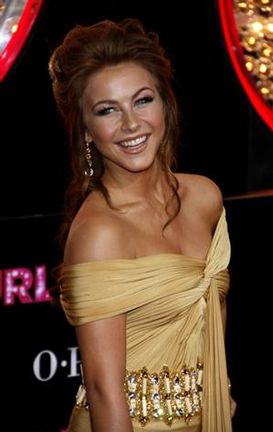 Julianne Hough would never be banned from the pages of the Daily Jolt.
Now Hough hinted that the video could be banned while she was in Baltimore last weekend for a radio-sponsored Christmas concert.
"This next song -- funny story," she told the audience. "I shot a music video for it, and Country Music Television banned it. Apparently, I was taking off too many clothes as I was dancing across my bedroom."
CMT denies any ban has occurred, and the station told CNN that it isn't playing the video because of a hiccup in contract negotiations.
Now, I wanted to embed the video in this post but it is nowhere to be found on YouTube or Truveo as of this moment. It has reportedly also been removed from several other websites. The site YouClubVideo.com apparently has it, but the site looks as if it has been shut down due to a high volume of traffic.
For now, until I can embed the code, here's a link to a weird site where you can see the vid. Don't worry, it's safe to click. VIDEO.
Follow the Daily Jolt on Twitter: Daily_Jolt
The Daily Jolt is a section of the National Football Post that serves as a one-stop shop for all things football, sports, pop culture and everyday life.
The section's editor, Dave Miller, also writes the Against the Grain college football column for the NFP. When he isn't putting coaches on the hot seat, he can often be found daydreaming of hanging out on set with Natalie Portman and Mila Kunis. You can follow him on Twitter at Miller_Dave.